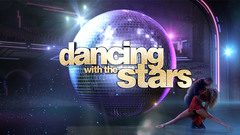 It's the finals, you guys! The quest for the mirrorball trophy is almost over. I'm usually so stressed out by this night that I record the show and watch it later. But, since I'm writing this blog, I put my big girl pants on and watched every second as it happened. Here we go!
After getting some advice on attitude from Carrie Ann, Ricki and Derek performed a sassy cha cha. Judging by Ricki's phenomenal body transformation, this show is a great workout program. She sizzled in a short, sparkly red dress. Len declared it a dance deserving of the final, even though it lacked fluidity. Bruno called it fantastic, but agreed with Len on the fluidity issue. Carrie Ann said Ricki was living the dance. Triple 9s gave the pair a 27.
Rob returned from last week's stellar performance to waltz with Cheryl. Bruno was pleased to see Rob follow his advice, and declared the dance fluid and glowing, despite some footwork mistakes. Carrie Ann said he's like the male version of Cinderella, and he made it to the ball! Len felt it was simply beautiful. Another set of triple 9s from the judges gave the couple a 27.
Read More »Dancing With the Stars, Week 10 Recap – Freestylin'