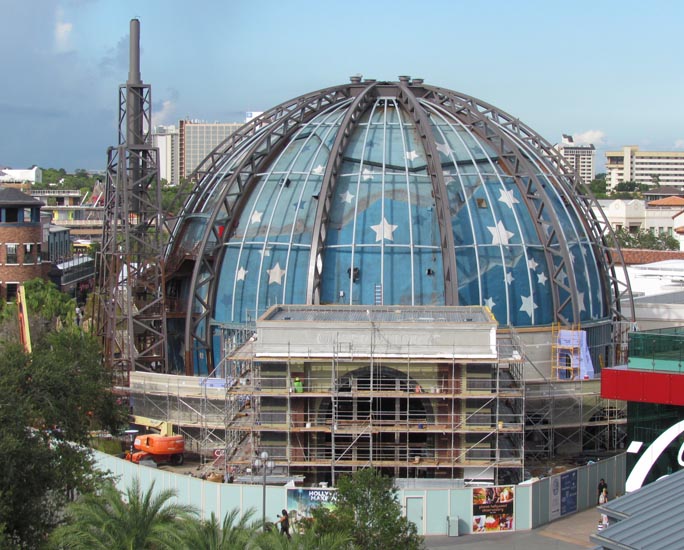 Since we last checked in on Disney Springs, we've had a handful of new retail locations open along with Blaze Pizza. The crowds are definitely strong and there's the very real possibility that Disney did not build enough parking to support the people who are showing up after work to enjoy the beautiful new expansion areas.
Walt's Place, The Edison, and Neverland Tunnels are scheduled to open in 2017. Planet Hollywood Observatory is, in theory, still on course for a Fall 2016 opening, since Winter doesn't start until December that just may be possible, but they'd better hurry. Similarly, Paddlefish, formerly Fulton's Crab House, is supposed to reopen in the fall of 2016. Judging by the state of these photos, I see that as very unlikely. But who knows.
We're also waiting to hear what what become of Disney Quest. The huge building was to become the NBA Experience, but that project has been shelved. Meanwhile Disney Quest stagnates with some of the attractions in bad shape.
There are a couple announced projects where construction has yet to start. There's a wine bar located near Raglan Road and a new restaurant pad near Planet Hollywood Observatory that has yet to go vertical. Polite Pig was announced, but since the windows are completely covered, it's hard to tell if its on schedule or not.
With most of the locations complete, there appears to be a few missing elements that would help round out the Disney Springs experience. First, the Town Center needs some nightlife. I'd like to see something like a Manhattan style Jazz Club. Doesn't have to be big, but a place to sip some cocktails while listening to a Jazz trio or small band would be awesome. There's no shortage of talent in Orlando. Walt's Place may fill this niche, but its in The Landing which won't help keep people shopping in the Town Center after dusk, which is the big problem right now. Second, I'd like to see a performing arts center that is capable of hosting Broadway style plays and musicals. Disney should definitely be previewing its Broadway musicals in Orlando where 44 million people visit the Walt Disney World property every year.
What changes would you like to see at the new Disney Springs? Which of the new stores have you been shopping at?