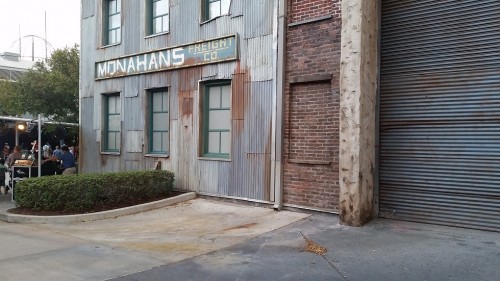 What's next for Disney's Hollywood Studios? That's a question that's getting asked a lot these days. The local paper has pitched the idea of it being a park in transition. Which is true, but the question is, transitioning to what?
While certain areas have closed down and memories of previous attractions erased (like the facade above making it seem like the tram tour was never even there). No big plans have been announced yet.
We've been told the Sorcerer's hat is going away. We now know that the Great Movie Ride will be getting a small makeover thanks to sponsorship from TCM. We've also been told that 2015 is when we'll learn about where Disney will be adding more Star Wars to its parks (DHS being the most likely candidate in Florida). Of course, the rumors of something more are growing louder all the time.
I'm hearing that the announcement might come as soon as January, but the even money is on an announcement at Star Wars Weekends (the dates for which were just announced) or in April at the Star Wars Celebration event in Anaheim.
As for what might be coming down the pike, I do have an article with some speculation from a few weeks ago. Some of my sources are telling me that the re-make of DHS won't be as extensive as some are hoping (myself included). The reason? The park isn't in as big of trouble attendance and spending-wise as we thought it was. Sure, it needs an improved attraction mix, more capacity, and an E-ticket or two. But it is still holding up its own as one day in the average family vacation and in guest surveys. So does it need a complete makeover like DCA received? Probably not.
That said, it's important to keep moving forward as a brand. If your offerings grow stale and the guys down the street have the latest and greatest, people might make a decision to visit somewhere else for a while.
Do you think Disney needs to go big with the Disney's Hollywood Studios makevoer or will a few new attractions do the job?