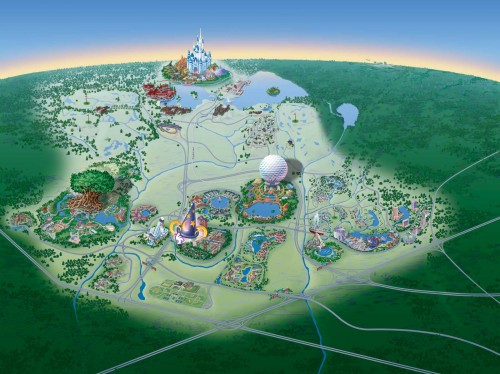 A few weeks ago, we went over some of the possible scenarios for expansion at Disney's Hollywood Studios along with completion of on-going and announced projects (Part 1 and Part 2 if you missed it). Yesterday, news dropped of a deal that will make it all possible.
What we didn't mention in those posts was a rumored mega-land purchase by Disney that some fans were saying was a clear sign of a fifth gate being built. I didn't want to breath life into any crazy rumors like that, so I ended up not posting that story. However, events have changed my mind.
As Walt Disney said about building in Florida, Disney has the blessing of space. 43 square miles is just a little larger than the city of San Francisco. But what you may not realize is that quite a bit of that area is dedicated to wetlands and conservation. Most of the resort that isn't are already developed is zoned for conservation (see map below).

That's not a show stopper for future development, but the way Florida works is, you have to buy some land that's a candidate to be returned to conservation wetlands elsewhere and then you have permission to make a change on the land you own. It's not a one to one ratio either. Usually you have to buy a lot more land than you get to convert.
Local news is now confirming that Disney recently purchased land in the former Mira Lago development. The land in Osceola and Polk counties was once slated for development, but is now about 3,000 acres that Disney can switch to conservation. Giving Disney the leverage it needs to petition the EPA to have 350 non-contiguous acres of the Walt Disney World resort converted from conservation to resort or theme park development.
To give you an idea of what 350 acres is like, Magic Kingdom itself is about 107 acres, but Disney's Animal Kingdom is about 500. So, if Disney were to combine this area with the plot of land between the TTC and Coronado Springs already reserved for additional development, you could definitely fit a 5th gate in there, along with some hotels and more.
Of course, a fifth gate isn't a given. The 350 acres doesn't have to be contiguous. It could be used here and there, to add a few much needed acres to Disney's Hollywood Studios (it will need more parking and more space for Star Wars Land), add a few areas for that new Magic Kingdom area resort that's been rumored, or maybe to build that off ramp from the I4 to the new Disney Springs Parking garage.
Here's a closer look at a Reedy Creek Water District Map that was created during land use planning for 2020. As you can see, if Disney wanted to assemble a large enough area of land to build a fifth gate, they'd have to take advantage of at least some of that 350 acres to convert some of that dark green into light green.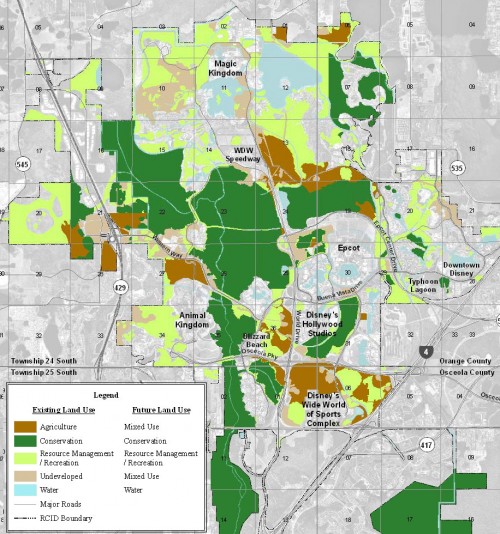 Although that spot on the other side of the 429, by Flamingo Crossings, does look interesting, it's more likely they'll build hotels, shopping and dining there. Not a fifth gate so far from the rest of the resort's infrastructure.
Disney already owns about 12,000 acres of wetlands, most of which are in the Disney Wilderness Preserve south of Walt Disney World in the Kissimmee Lakes area. The preserve is managed by the Nature Conservancy, but parts of it are open to the public for nature watching, hiking, and the like. I'll be keeping an eye to see if Disney asks the Nature Conservancy to step in and help managed these new wetlands as well.
So, now it's time to put on your Imagineer's cap. What would you do with so much new land to build on at Walt Disney World?