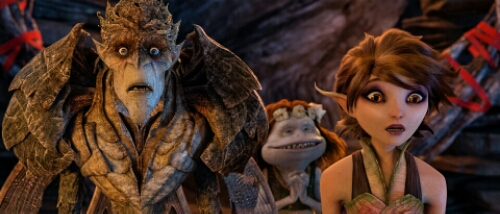 Hard to believe, but Disney just announced it will release a new animated film in January of 2015. "Strange Magic" is a feature length animated film from Lucasfilm. The animated musical is inspired by "A Midsummer Night's Dream," and is being presented as a madcap fairytale adventure. Interestingly, popular songs from the past six decades help tell the tale of a colorful cast of goblins, elves, fairies and imps, and their hilarious misadventures sparked by the battle over a powerful potion.
George Lucas provided the story and Lucasfilm Animation Singapore and Industrial Light & Magic, which created the CGI animation for 2011's Academy Award-winning film "Rango," bring to life the fanciful forest turned upside down with world-class animation and visual effects. That may explain why it's been kept pretty much a secret for so long.
An extraordinary roster of film, television and Broadway stars lend their voices to "Strange Magic," including Alan Cumming (CBS' "The Good Wife," Broadway's "Cabaret"), Evan Rachel Wood ("The Ides of March"), Kristin Chenoweth (Broadway's "Wicked"), Maya Rudolph ("Big Hero 6," "Bridesmaids"), Sam Palladio (ABC's "Nashville"), newcomer Meredith Anne Bull, Alfred Molina ("Chocolat"), Elijah Kelley ("Hairspray," "The Butler"), Bob Einstein (HBO's "Curb Your Enthusiasm") and Peter Stormare ("Fargo").
"Strange Magic" is directed by Gary Rydstrom ("Toy Story Toons: Hawaiian Vacation," "Lifted"), produced by Mark S. Miller (associate producer "Mars Attacks!") and executive produced by George Lucas, with a screenplay by David Berenbaum ("Elf"), Irene Mecchi ("Brave," "The Lion King") and Rydstrom. Well-known music producer Marius de Vries ("Moulin Rouge") serves as both the musical director and composer.
"Strange Magic" will be released by Touchstone Pictures on January 23, 2015.