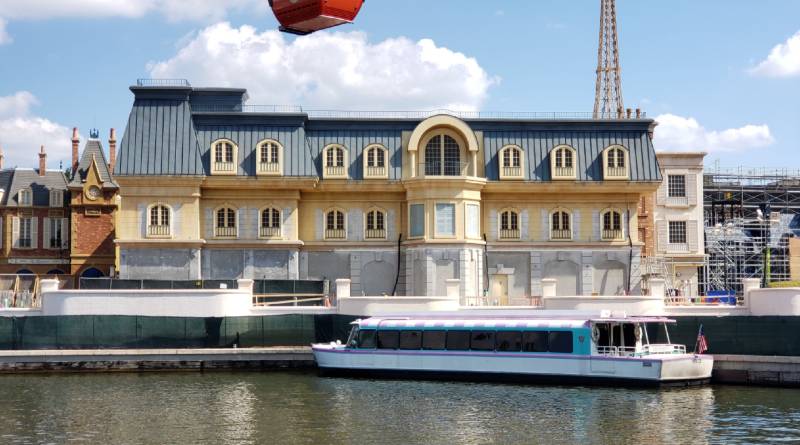 We popped over to EPCOT for a taste of the Food & Wine Festival last week and took a slight detour to check out the latest construction on the France pavilion expansion. Remy's Ratatouille Adventure will add a much needed all-new attraction to the park, instead of just remaking an existing attraction. The last all-new attraction was Turtle Talk with Crush in 2004.
The biggest change in the France pavilion expansion is the construction of a new building in the area. It looks like this might be the new restaurant – Creperie. Otherwise, work continues on the facade that will hide the show building for the ride and retheming the parks of buildings that were previously only visible from backstage into something that resembles a Parisian neighborhood.
I can't wait to explore this new area and follow Remy through his adventures in the kitchen of Gasteau's. It is scheduled for Summer of 2020, but I hear they're hoping to open as soon as April of next year.
A few other changes in the area include the new EPCOT International Gateway station for the Disney Skyliner. The main station has had all the scaffolding removed and looks to be almost ready to open. Crews also added a new archway that will be the main entrance for the station. Note the entrance indicating which side wheelchairs and others needing assistance loading should use.
The international gateway is getting two new structures, one for security screening and one for ticket scanning. This will increase the capacity of the EPCOT's second entrance to process guests. In theory, they could be arriving at the international gate at 5,000+ an hour now courtesy the swift pace and capacity of the Disney Skyliner.
This is only one little corner of a major change for EPCOT. Illuminations Reflections of Earth ends at the end of September and a temporary new show "EPCOT Forever" begins the next night. Much of Future World is now behind walls as demolition is scheduled to begin on the old westside Communicore buildings as part of the new vision for Future World, which will break it up into three neighborhoods. And that's just a small part of the changes.
Which big change coming to EPCOT are you looking forward to the most?