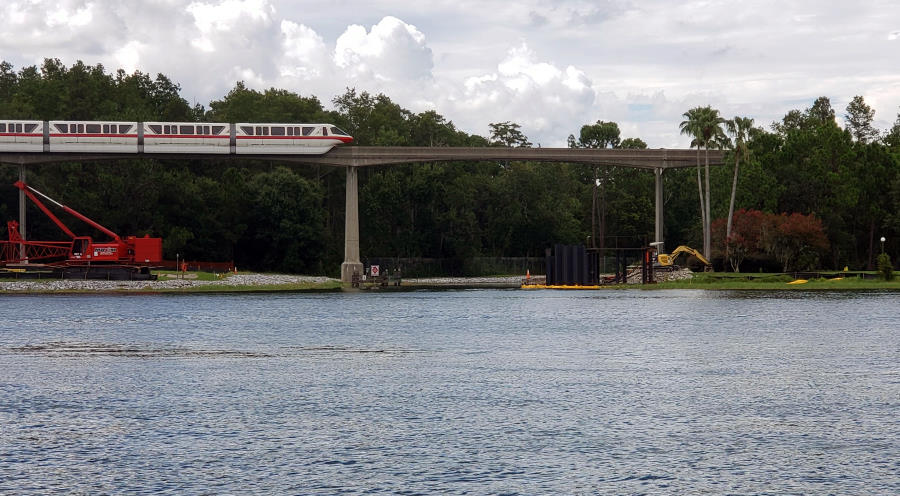 There have long been rumors that Walt Disney World planned to connect the Grand Floridian Hotel with the Magic Kingdom entrance plaza via a bridge over a canal that provides access to backstage areas. There was already a path, covered in those engraved bricks, with light poles and park benches, that led right up to the canal. Why would Disney build that path if they didn't intend to continue it one day?
Now the work to complete the pathway with a bridge, while still providing access to backstage areas for water craft, is finally underway.
There's actually a need for two bridges, there's a second smaller canal closer to the Grand Floridian itself, but only one of them will have to be able swing or raise up. A drawbridge is the most likely option for the larger canal. Not only are the Electric Water Pageant floats kept behind the new bridge, but the boats that are used on the Rivers of America also use that canal to head across the Seven Seas Lagoon and into Bay Lake when dry dock repairs are required.
Ironically, the work on the bridge began shortly after Disney announced an end to the Walk Around The World bricks and the removal of the bricks on a path that will finally get some use. My family has a brick on that path we haven't been able to visit in years. A new path will continue from the Grand Floridian side eventually connecting with guest areas of that resort.
When the bridge is open it will provide pedestrian access to the Magic Kingdom from as far the Grand Floridian, Polynesian, and if you really were ambitious, the Transportation and Ticket Center. I'm not sure guests of the Grand Floridian and Poly really want a couple thousand theme park guests marching through their resort every morning and night, but maybe Disney has already figured out how to meter that foot traffic.
Disney will also have to figure out how to restrict access to the water along the pathway. It has been closed since the tragic death of a toddler in the jaws of an alligator in 2016 and the new barriers near the water's edge have not yet been installed.
Construction is just underway and the project hasn't even been officially announced by Disney, let alone given an opening date.
Use of this path will add some extra steps to your day for sure and may not save you much time even if the monorail line is long. Will you use it once it opens?