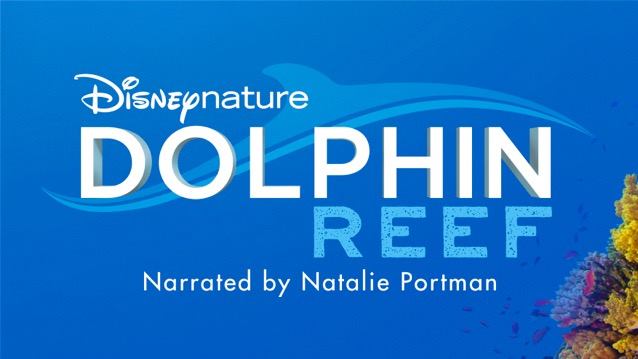 Natalie Portman may no longer be interested in playing Thor's Earthly love interest Jane Foster, but that doesn't mean she's left the Disney family. She has just been announced as the narrator of the next feature film from Disneynature – "Dolphin Reef." The film will release on Disney+, the new direct-to-consumer streaming video on demand service launching in the U.S. on November 12, 2019.
In "Dolphin Reef" we head under the sea to frolic with some of the planet's most engaging animals — dolphins. Adding an Academy Award winning actress do do the narration is a solid plus for the film. Keith Scholey, who directed Disneynature's "Bears," helms the film.
"Disneynature takes audiences to spectacular and remote places to share remarkable wildlife stories captured by our award-winning film crews," said Paul Baribault, vice president of Disneynature. "'Dolphin Reef' takes us to a thriving coral reef—one of the most fascinating and dynamic habitats on Earth—to see the incredible creatures who consider reefs their home."
Created with Disneynature's signature storytelling style, the film introduces Echo, a young Pacific bottlenose dolphin who can't quite decide if it's time to grow up and take on new responsibilities. Dolphin society is tricky, and the coral reef that Echo and his family call home depends on all of its inhabitants to keep it healthy. But Echo has a tough time resisting the many adventures the ocean has to offer.
"For more than a decade, Disneynature has amazed and inspired the world through its acclaimed True Life Adventure films,'" said Agnes Chu, senior vice president of Content for Disney+. "We're thrilled to give Disneynature's unique stories a new home in our growing collection of original content."
"Dolphin Reef" will join the streaming platform's slate of original nonfiction programming, including "Be Our Chef," "Cinema Relics: Iconic Art of the Movies" (w/t), "Earthkeepers" (w/t), "Encore!," "Ink & Paint," "Into the Unknown: Making Frozen 2," "Marvel's 616," "Marvel's Hero Project," "Magic of Animal Kingdom," "(Re)Connect," "Rogue Trip," "Shop Class" (w/t), the untitled Walt Disney Imagineering documentary series, and "The World According to Jeff Goldblum."
Disneynature's "Penguins," which is currently in theatrical release, will also be available on the platform in 2020. Read our review of "Penguins."