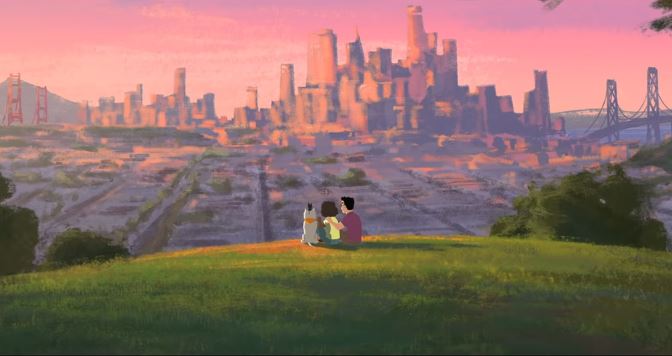 It's a rare animated short from Pixar that is delivered in hand drawn 2D animation, instead of their fully realized 3D usual fare. Pixar has released "Kitbull" as one of three videos to preview the Pixar SparkShorts series that will be featured on Disney+ when it debuts later this year.
Directed by Rosana Sullivan and produced by Kathryn Hendrickson, the Pixar SparkShort "Kitbull" reveals an unlikely connection that sparks between two creatures: a fiercely independent stray kitten and a pit bull. Together, they experience friendship for the first time.
Set in the Mission District of San Francisco, the short is not just touching and heart warming, it's a visual feast.
Yeah, that took a dark an unexpected turn, even for Pixar. I guess things worked out well in the end.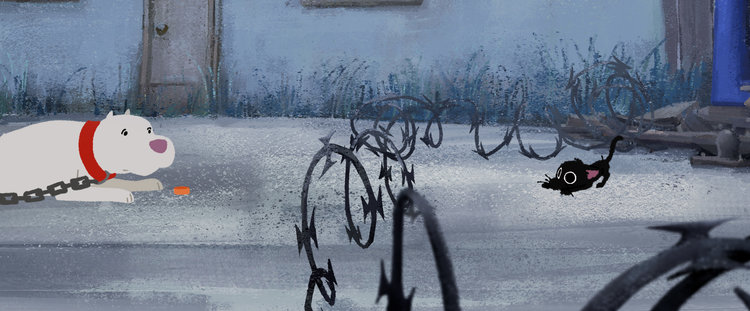 This bonus featurette goes behind the scenes on how the 2D animation was accomplished. Yes, they're using a computer to draw on, but every frame is hand animated.
As you'll learn in the Meet the filmmakers video below, the inspiration for this short started with a cat video. Thanks Internet!
The Pixar SparkShorts are what happens when Pixar gives its artists free reign to make art that inspires them. In the end Pixar might discover some new directorial talent and that's a good thing. So far, I'm liking the results. How about you?
The two previously SparkShorts animated shorts from Pixar were:
Purl