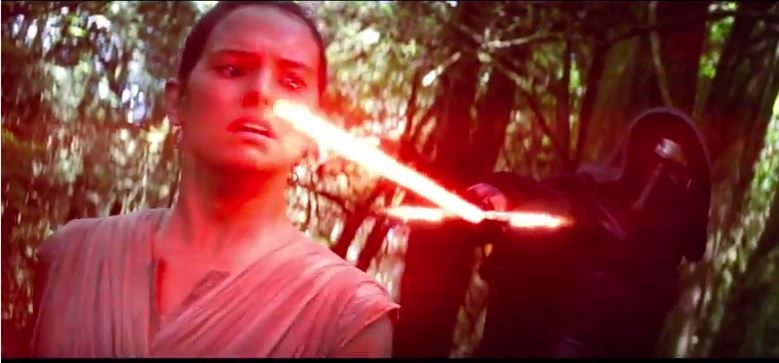 The star of the new international trailer for Star Wars: The Force Awakens has to be BB-8, the round rolling droid that follows Rey around. Either that or Kylo Ren's red lightsaber. Both get lots of screentime in this trailer that's debuted on Walt Disney Studios Japan's youtube channel.
There's also quite a bit of new footage to squee! over.
If BB-8 is the new hero, that goes in line with my favorite theory about the first 6 films – it's really the story of R2-D2.
Also in the trailer are new scenes between Daisy Ridley's Rey and Adam Driver's Kylo Ren, lots more footage of Jakku, more Leia is always nice, and finally some footage of C-3PO with his red arm (you have to look quick). It's also revealing that Rey and Finn don't actually introduce themselves until their safely aboard the Millennium Falcon. So the action must be fairly fast-paced for both of them up until that point.
Finally, did you catch that about Rey waiting for her family to show? I think that confirms some fan theories we've been reading. What do you think it means?
Star Wars: The Force Awakens technically opens on December 18th, but there might be some more tickets available for earlier shows on the evening of the 17th. Buy on Fandango and your purchase will help The Disney Blog. Thank you.