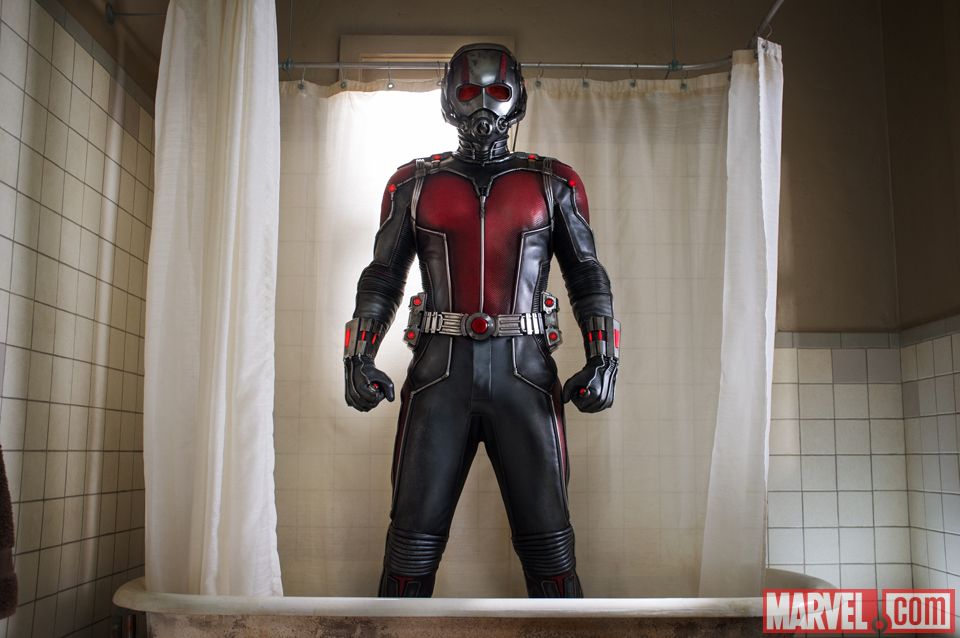 The best Marvel movies are the ones that can take the high energy action scenes and extensive special effects required in a superhero movie and infuse them with enough heart and humor to make the characters relatable, no matter what the setting.
Ant-Man is one that will surprise moviegoers with a near-perfect balance of all of those elements. It's smaller in scale than Marvel's last outing, The Avengers: Age of Ultron, but that serves this story well.
The movie centers on Scott Lang (played by Paul Rudd), an ex-con trying to go straight who decides to do one last job with his friends to get himself a little ahead. His target is the house of genius inventor Dr. Hank Pym (played by Michael Douglas), but once inside the vault discovers the only thing worth stealing is a weird suit and helmet. He puts it on and once he accidentally pushes the button and shrinks, he's caught.
Turns out Pym and his daughter Hope (Evangeline Lilly) staged the heist to test Lang's skills. They want him to help stop Pym's one-time protégé Darren Cross (Corey Stoll) from replicating Pym's secret formula that can shrink the space between atoms, making everything smaller. Cross would sell his version of the formula, called Yellowjacket, to the highest bidder for evil uses.
Of course that can't happen, so Lang and his trio of semi-inept buddies join forces with the Pyms to save the world…somehow.
Rudd, as the centerpiece of the film, brings the character its heart, along with a set of killer washboard abs. In his hands, Lang doesn't take things too seriously, and he can verbally dish it as well as he takes it, especially with Hope, who has no faith in him to do the job.
As the Pyms, Douglas has the stubborn father-figure/mentor role down, though he holds his own in a fight scene. Lilly, rocking a bob haircut, is a good foil for Lang with her seriousness to get the job done.
The real surprise is Luis, one of Lang's con friends. Played by Michael Peña, Luis is actually the comic bone of the movie, stealing nearly every scene as the always happy guy who has a story to tell.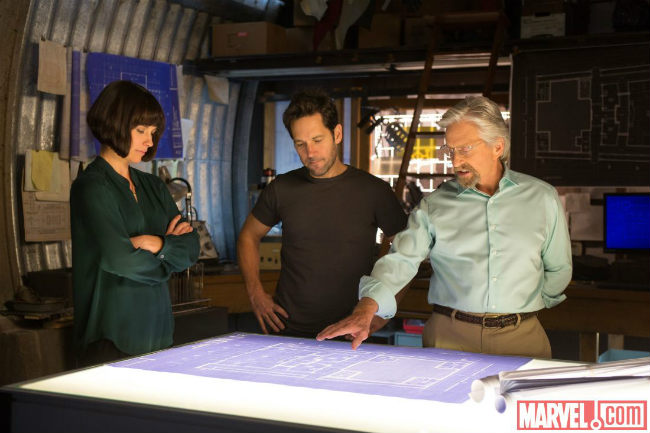 Visually, the film is amazing, especially in the fight scenes, where Lang as Ant-Man shrinks and pops to regular size and then shrinks again in the blink of an eye. Kudos also to how well they digitized all the ants and other insects.
Sight gags based on the whole shrinking process abound, too. I will never look at a toy train set the same way. And there is a special effects trick used on Michael Douglas at the opening of the film that is so well done I couldn't tell it was CGI.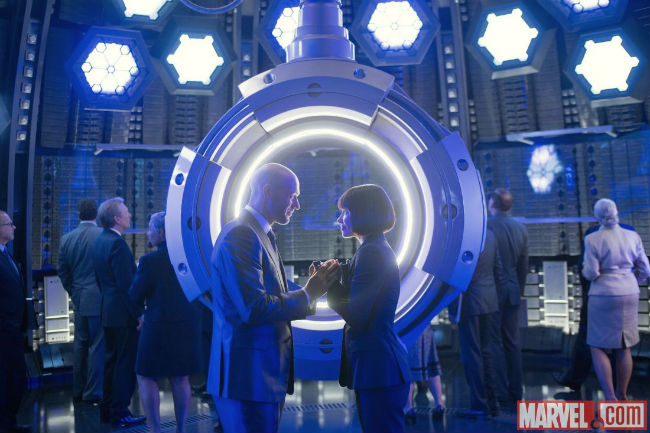 Ant-Man has plenty of Marvel cameos, one of which has already been revealed in the trailers, but many more who haven't. Let's just say you'll see a Stark and one of Captain America's other friends, as well as something that cameoed in the last Avengers film.
During filming there was a lot of furor from fans when writer/director Edgar Wright left the film, and Peyton Reed (director) and Adam McKay (writer) took over. I don't know how much the newcomers changed from Wright's script, but I still see a lot of him all over the movie.
Good things often come in small packages, and Ant-Man is proof of that. It doesn't quite have the overall exhilaration of an Avengers-type movie, but it's well-paced and funny, with enough thrills to make this tiny superhero worth watching.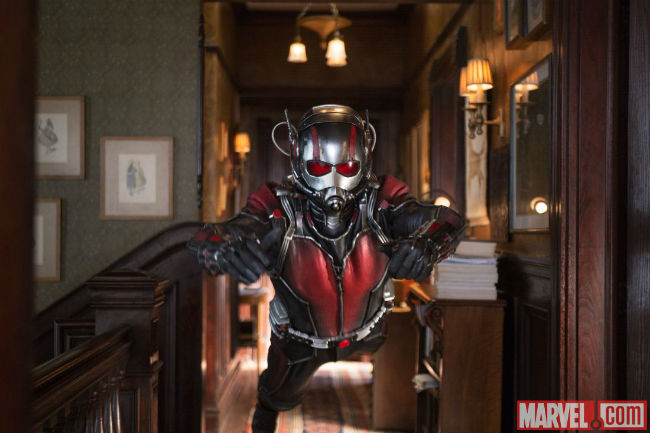 In the last of two end-credit scenes, "Ant-Man will return," flashes across the screen.
I can't wait!
Especially after seeing what the first mid-credit scene revealed.
Ant-Man is in U.S. theaters July 17. It stars Paul Rudd, Evangeline Lilly, Corey Stoll, Bobby Cannavale, Michael Pena, Tip "T.I." Harris, Wood Harris, Judy Greer, David Dastmalchian, Michael Douglas, Abby Ryder Fortson, Martin Donovan. It is produced by Kevin Feige and directed by Peyton Reed from a script by Edgar Wright, Joe Cornish, Adam McKay, and Paul Rudd. It is rated PG-13.
Here is a recent trailer for the film:
[All images courtesy Marvel]