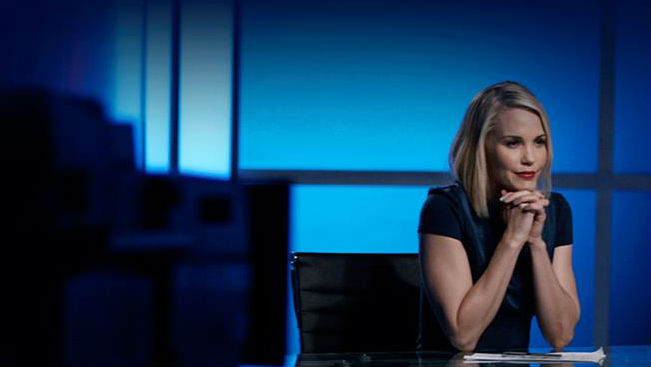 In an effort to promote the Ant-Man movie, Marvel has launched a viral video promotion via YouTube, Twitter, and Google Plus.
They've opened up an "official" channel on YouTube for WHIH World News, an organization that "reports on political, scientific, and entertainment news," according to the "About" page.

WHIH is apparently anchored by the show "Newsfront with Christine Everhart." Yes, the same Christine Everhart played by Leslie Bibb from Iron Man and Iron Man 2. Guess those spreads on Tony Stark and Justin Hammer got Everhart her own TV show.
There are four videos on the WHIH YouTube channel. The first is a promo for Everhart's show:
The second is a "Top Stories" news report that pays a nod to The Avengers: Age of Ultron before telling us the story of Scott Lang on the eve of his release from jail. This offers some backstory on the character prior to the movie's release:
The third video continues the profile of Scott Lange by "Newsfront with Christine Everhart," showing video of Lang committing the crime he was in prison for:
The final video on the channel is a show called WIRED Insider (modeled after the tech magazine of the same name) featuring an interview with Darren Cross, CEO of Pym Technologies:
You don't need to see these videos prior to watching Ant-Man, but they do offer a bit more backstory on the characters than the film has time to.
The Twitter and Google Plus accounts pretty much hype the videos, but occasionally offer one-off posts like this:
We've learned there will be a dramatic fireworks display at the #Avengers Tower tonight in #NYC. Happy #4thofJuly. pic.twitter.com/7mPY3T21Ji

— WHIH News (@WHIHOfficial) July 4, 2015
It'll be interesting to see if they keep the WHIH World News YouTube channel and companion Twitter page active post movie release. Maybe they might even use it for future Marvel movie releases. I can totally see Everhart's show fitting in with Captain America: Civil War.
Follow along for further fun at Youtube, Twitter , and Google Plus.
[All images courtesy Marvel]