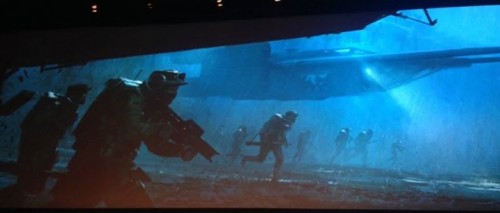 I'm still on a bit of high from the new Star Wars: The Force Awakens teaser trailer and the Star Wars Rebels Season 2 preview trailer, and the news from the final day at the Star Wars Celebration event in Anaheim is the perfect way to cap it off. We just learned some exciting details about the first Star Wars stand-alone film – Rogue One.
First up is the general plot revealed by Star Wars official Twitter account: "A band of resistance fighters unite for a daring mission to steal the Death Star plans." Yes, it's a heist film and it's set between Episodes 3 and 4.
Director Gareth Edwards shared an early teaser for Rogue One with the audience. Since the movie hasn't begun filming yet, it was mostly clips from other films and a voice over from Sir Alec Guinness, but it was enough to get people excited. (Sadly it's not available online, yet)
We recently learned that Felicity Jones (The Theory of Everything) would star. And Edwards let us know Jones is a big fan and dropped everything for a chance to be in this film
The time between Episode III and IV is a dark one for the rebellion. Most of the Jedi have been killed or driven to ground. So the action in Rogue One will be largely without a force wielder on their side. As you can see from the concept art above, it's likely to involve at least some military action.
Since we all know what happened with those plans, Luke used them to destroy the Death Star, the excitement will be learning how it was done. I know I can't wait.
I guess all our speculation was wrong. Filming is expected to start soon for a December 16, 2016 release date.
If you want to get in on next year's Star Wars Celebration excitement you'll have to hook a flight across the pond, the 2016 event will be held in London.