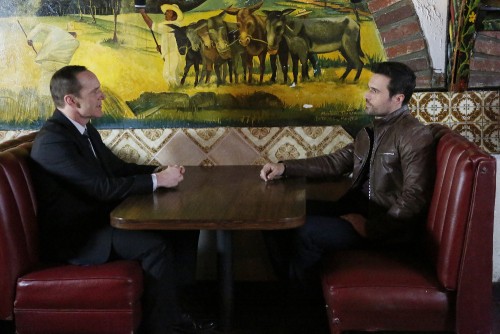 Okay, this clip from the next episode of Marvel's Agents of SHIELD "The Frenemy of my Enemy" is fantastic. Fitz is on the run from the people the other SHIELD has sent to follow him. How he evades their capture is a must see:
Here's the full plot synopsis for the episode:
A dangerous new alliance is formed as Coulson and Hunter turn to the last person anyone would expect – Grant Ward! As the war between S.H.I.E.L.D. factions continues, Skye and Lincoln will find themselves drawn into this conflict.
Marvel's Agents of S.H.I.E.L.D. stars Clark Gregg as Agent Phil Coulson, Ming-Na Wen as Agent Melinda May, Brett Dalton as Grant Ward, Chloe Bennet as Skye, Iain De Caestecker as Agent Leo Fitz, Elizabeth Henstridge as Agent Jemma Simmons, Nick Blood as Lance Hunter, and Adrianne Palicki as Bobbi Morse.
Guest starring are Henry Simmons as Alphonso "Mack" Mackenzie, Henry Goodman as Dr. List, Kyle MacLachlan as Cal, Jamie Harris as Gordon, Maya Stojan as Kara, Dichen Lachman as Jiaying, Luke Mitchell as Lincoln Campbell, Kris Lemche as Ethan, Staci Roberts as Paula, and Trenton Rostedt as Hoodie Guy.
Tune in Tuesday April 21 at 9pm ET on ABC.