Today's TeeFury T-shirt battle features a pair of designs sure to pull the strings of Marvel's Avengers: Age of Ultron fans.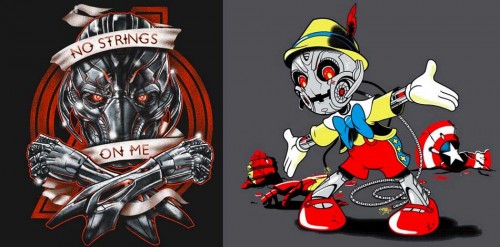 Adams Pinto has a wonderful humorous design with Ultron dressed as Pinocchio standing over the ruins of Iron Man and Captain America. Slightly more serious is "Ultimate Evil" from Zerobriant with Ultron perched on top of the Avengers A declaring "Now Strings on Me."
As always, all TeeFury shirts of the day are just $11. But it's only available today, so don't hesitate if you want one of these beauties.
Which of these will you be wearing the first time you see Marvel's Avengers: Age of Ultron in the theater?