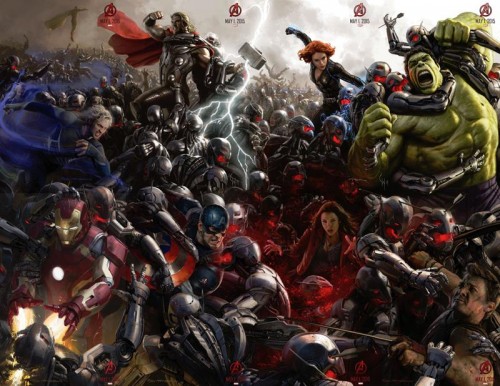 Starting opening day of San Diego Comic-Con, Marvel began releasing limited edition Avengers: Age of Ultron character posters. The first ones featured what looked like battle scenes centering on Iron Man and new character Scarlet Witch.
Then SDCC attendees got to see posters for Hawkeye, Captain America and Black Widow, along with another new character, Quicksilver. All were featured in similar battle vignettes, and it became apparent that these posters were part of a bigger glimpse at the movie.
Upon the release of the final two posters, of Thor and The Hulk, the suspicions became reality when all eight posters stitched together became a full-fledge battle scene of the Avengers, Scarlet Witch and Quicksilver engaged in a huge battle scene with Ultron's army of robots, with a glimpse of The Vision, as well.
While there's nothing in these images/master image that hasn't already been revealed in the comics, that may be the point. To show that this story will be the intense Avengers vs. Ultron battle that fans have wanted. This is a story about the Avengers, who are largely human, fighting for the fate of all humanity.
I can't wait to see how Joss Whedon brings this poster image to the big screen. It should be amazing, especially if reports from the big SDCC'14 panel are to be believed.
Avengers: Age of Ultron will be in theaters May 1, 2015. Who's ready to do battle?