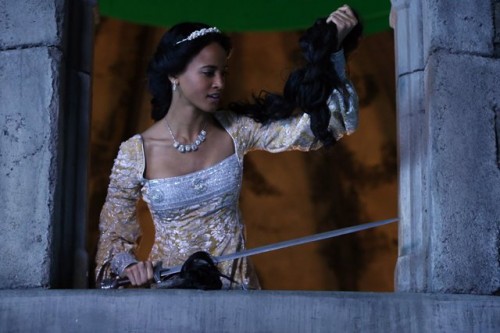 Once Upon a Time has cast themselves a bit of controversy this week when they cast Alexandra Metz as Rapunzelle. People were upset by the fact that they didn't cast a blonde in the part. I'm going to come out and say it, that's just silly. As long as she does a great job with the part, what does her hair color matter? There are so many versions of the character that it's hard to get attached to any particulars of the characters. (Of course, I'm not up to date on my fairy tales. Maybe I am missing something and her blonde hair is like Snow White's black hair. Even so, I'm not too hung up about it.)
How does Rapunzelle enter our story? In the Enchanted Forest of the last year, David is going to stumble across her locked away in her tower. And he's going to have to help her overcome fears to get her out of the tower.
Meanwhile, in Storybrooke, our heroes (which includes Regina!) are going to start looking for the Wicked Witch of the West now that they know who has cursed them. But since they still don't have any memories, they don't know she is Mary Margaret's new friend Zelena. And I hope we'll learn more about Zelena's prisoner. (And I am very sorry about spoiling that reveal last week. I will be more careful in the future.)
Yep, it's looking to be another jam packed episode of Once Upon a Time. And I'll be breaking it down on Monday over at Carstairs Considers.