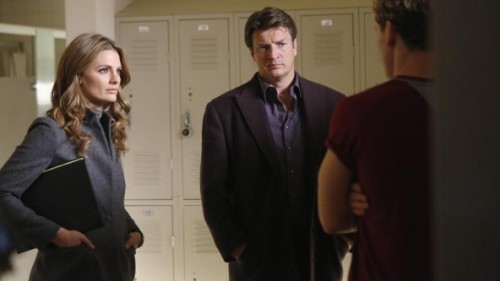 We're going back to high school on this week's episode of Castle. And from the sound of things, the victim will be that one person we all wish would have died – the mean girl. So you'd think with someone like that being the victim, there would be lots of suspects and that would be it, right?
You'd be wrong.
Seems the chief suspect appears to be an unpopular girl rumored to have telekinetic abilities. Are we looking at a real life Carrie? Odds are no, and we'll find some logical explanations for it at the end.
And in sub-plots? That's a good question. I'd love an update from Alexis. Did she break up with Pi? Where is she living now that she has? Frankly, I found her absence very lacking in the last new episode even for a show that doesn't always use Alexis and Martha.
Now that Castle and Beckett have moved up their wedding to this spring, there will be more planning for that. After all, it's only three months until May sweeps, so they've only got three months to pull it all together. (Really, I never bought the September date for their wedding for a minute.) What they latest there will be, I don't know.
But we'll find out Monday at the usual time on ABC. See you at Carstairs Considers on Tuesday to discuss it.