First the 12th Man started to arrive:
Then they started cheering:
Finally, the man of the hour arrived:
It was a short, but memorable parade. He also stuck around for a brief interview.
And then, like the international man of mystery that he is, NFL Superbowl XLVIII MVP Malcolm Smith, returned to the jet setter life of parties and TV interviews that is his destiny… at least until practice starts for next season with the Seattle Seahawks.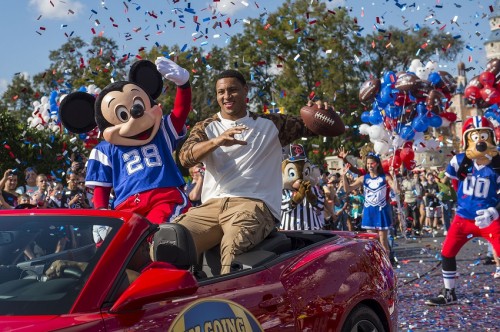 The victory atmosphere moved south from New Jersey to Walt Disney World Resort Monday where Seattle Seahawks linebacker Malcolm Smith celebrated his team's stunning Super Bowl XLVIII championship win as thousands of fans lined Main Street, U.S.A.
Just hours after his title win against the Denver Broncos, Smith was riding high atop a convertible smiling and waving to guests at Walt Disney World Resort.
Flashing lights, a whirlwind of fluttering confetti, balloons and Mickey Mouse himself accompanied the Super Bowl MVP down the famous street at the Magic Kingdom. It was a remarkable dream come true for Smith, who went from being the last player the Seahawks drafted in 2011 (No. 242 overall) to the hero of the Super Bowl.
In the frenzied moments following his team capturing the National Football League championship Sunday night in New Jersey, Smith stood in front of a TV camera and shouted five words that have become an almost iconic reaction to milestone achievement: "I'm going to Disney World!"
The commercial aired Monday morning and is the 47th of a series that began in 1987 following Super Bowl XXI featuring New York Giants quarterback Phil Simms. The campaign pays tribute to personal achievements of athletes and celebrities and continues to be an iconic celebration as only Disney can do.
Previously: Disney Super Bowl Commercial features Seattle Seahawks Malcolm Smith, MVP of Super Bowl XLVIII.