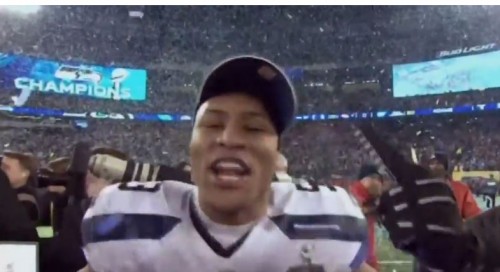 It's a tradition like no other, when a team wins the Superbowl everyone wants to know what they're going to do next. The answer, of course, "I'm going to Disney World." Last night, amid a mid-winter blizzard – of confetti – linebacker Malcolm Smith of the Seattle Seahawks continued that magical tradition following his team's 43-8 rout of the Denver Broncos in Super Bowl XLVIII.
Rising from the frenzied, on-field hoopla moments after his team captured the National Football League championship, Smith beamed into the cameras and shouted those five words that for decades have become synonymous with Super Bowl victory celebrations: "I'm Going to Disney World!"
On Monday, Smith is scheduled for a hero's welcome parade at Magic Kingdom park down Main Street, U.S.A., in front of cheering park guests and Seahawks fans. As a long time Seattle Seahawks fan myself, I have to say this is pretty sweet to finally win. I look forward to seeing all the 12 Man fans at the Magic Kingdom today.
Smith, named the Most Valuable Player, was a game standout, intercepting Denver quarterback Peyton Manning for a 69-yard touchdown and recovering a fumble among several huge plays. Smith also added nine tackles as Seattle's stifling defense dominated the game. For the Seahawks, the decisive win was their first Lombardi Trophy in two Super Bowl appearances.
Smith's pronouncement, part of the production for one of TV's most enduring and iconic Super Bowl commercials, was captured within seconds of the final gun.
This latest commercial is the 47th of a series that began in 1987 following Super Bowl XXI. The first "I'm Going to Disney World" commercial, featuring New York Giants quarterback Phil Simms, was regarded as a groundbreaking concept – a produced national commercial involving a current event, airing on major networks within hours of its conclusion.
Smith set another mark Sunday night. He becomes the first defensive player ever to star in the Disney commercial.
This year's commercial marks a "Frozen" first. Idina Menzel, who voiced Elsa in Disney's Academy Award®-nominated animated feature film "Frozen," sings the traditional "When You Wish Upon a Star" to accompany the iconic ad. Menzel, who performs the Academy Award®-nominated hit song "Let It Go" in the film and the all-new hit "Frozen" soundtrack, becomes the first contemporary artist to perform "When You Wish Upon a Star" in the Disney Parks Super Bowl ad. She recorded the vocal track in New York City on Jan. 26, 2014 and it was paired with the orchestral track recorded the previous week at London's famed Abbey Road Studios.
Smith joins an all-star lineup of heroes from sports and beyond who have celebrated milestone accomplishments in "I'm Going to Disney World" commercials.