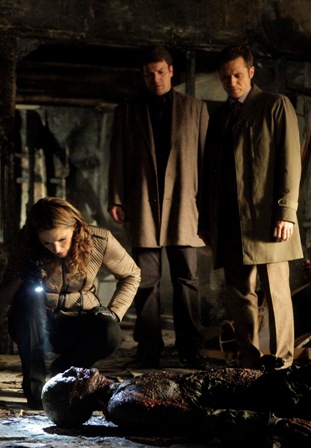 Every year, Castle returns on the first Monday of January, and every year it seems so early to me. But we're at that Monday, which means we're back with a new mystery to solve Monday night.
The mystery involves a body found in a burned out building. Now you might think that the body was burned in the fire. In this case, you'd be wrong. Our victim was shot and then the body was burned to try to cover up the crime. Naturally, that will create a few wrinkles in the mystery to be solved.
Meanwhile, Detective Ryan's wife is going to go into labor with their baby. I'm not sure what the complications are going to be, but we've been promised there will be some. That's not too much of a surprise since this is a fiction show and we need some kind of plot to make things more interesting. They've really been playing up this sub-plot with Ryan's character, so I'm looking forward to seeing how his being a father really turns out. Frankly, I'm hoping he's great at it, but there wouldn't be as much comedy there.
All this and more will start Monday at 10/9 Central with my recap appearing at Carstairs Considers Tuesday night.