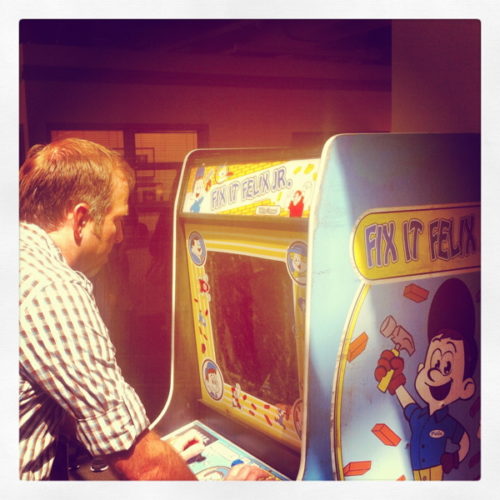 Disney Animation has released one more clip from Wreck-It Ralph as the movie is set to debut in theaters everywhere tomorrow. This one features Fix-it Felix Jr as he encounters Sergeant Calhoun for the first time and setting off one of the movie's sub-plots:
Reviewers are mostly kind to the film. It's currently rated 84% over on Rotten Tomatoes. It definitely deserves that, as I said in my review:
with Wreck-it Ralph, Walt Disney Animation Studios has returned to the top of the animation game, matching, if not surpassing, anything you would expect from its more successful partner up in Emeryville. It does this while remaining true to the core values of Disney animation, which is a focus on great story and characters who you really feel for.
AO Scott in the NY Times gives it the critic's pick:
"Wreck-It Ralph" manages to be touching as well as silly, thrilling and just a bit exhausting. The secret to its success is a genuine enthusiasm for the creative potential of games, a willingness to take them seriously without descending into nerdy pomposity. I am delighted to surrender my cynicism, at least until I've used up today's supply of quarters.
Justin Lowe of The Hollywood Reporter liked the film:
Guided by executive producer John Lasseter, Walt Disney Animation Studios has clearly devoted significant resources and talent to Wreck-It Ralph, recruiting a top-notch cast and a diverse array of animation, visual effects and lighting artists to contribute to the distinct and varied vid-game styles. With a mix of retro eye-candy for grown-ups and a thrilling, approachable storyline for the tykes, the film casts a wide and beguiling net.
Peter Travers of the Rolling Stone found it imaginative:
There's been a rash of recent movies fired up with imaginative risk. And the 3D computer-animated Wreck-It Ralph is one of them. Big props to director Rich Moore, making the switch to features after knocking it out of the park on The Simpsons and Futurama. Moore brings a video junkie's passion to the movie game, and it's hilariously infectious.
I actually saw the film a second time last night. It didn't lose anything on the second viewing. If anything, the details in the movie became more apparent and the story even more touching. I hope you'll head out to see Wreck-it Ralph this weekend. If you do, come back and tell us what you thought!