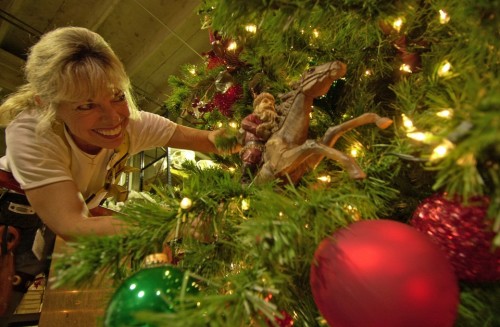 Halloween is over and as fast as the fall decor goes into storage, the winter decorations are being added to the park. Miles of garland, glitter, twinkling lights and ribbon transform Walt Disney World Resort into a winter wonderland during the holiday season. Here's a sample of what guests will experience by the numbers:
1,300 decorated trees throughout property
A wreath 25 feet in diameter adorning the Cirque du Soleil building at Downtown Disney West Side
10 miles of twinkling rope lights in the Osborne Family Spectacle of Dancing Lights at Disney's Hollywood Studios
150 semi-trailer truckloads of decorations for 24 resorts, 4 theme parks, Downtown Disney and other locations
15 miles of garland strung and 1,314 wreaths hung throughout the Vacation Kingdom
300,000 yards of ribbon and bows draping over Christmas trees across property
8.5 million lights strung throughout Walt Disney World Resort
98 percent of the lighting used for holiday décor is LED, 2 percent is compact florescent
11 countries dressed for Holidays Around the World at Epcot World Showcase
More than 800 performers each night during Candlelight Processional at Epcot
More than 200 guest choirs during the entire run of Candlelight Processional
A Christmas tree in Magic Kingdom with a base 26 feet wide
One 70-foot-tall tree takes center stage in Disney's Contemporary Resort entrance lobby featuring nearly 35,800 white LED lights
6 life-sized creations cooked up by Walt Disney World pastry chefs, including:

One 16-foot-tall gingerbread house at Disney's Grand Floridian Resort & Spa baked with 1,050 pounds of honey and involving more than 160 hours of decorating
One life-size gingerbread carousel at Disney's Beach Club Resort featuring ponies made of chocolate and fondant, giant candy cane poles, handcrafted poinsettias and hand-painted portraits of famous Disney characters
100 percent chance of snow flurries during Mickey's Very Merry Christmas Party, taking place on select holiday evenings in Magic Kingdom
365 days of the year that guests can shop for holiday merchandise at the Disney's Days of Christmas shop in Downtown Disney Marketplace
Do you have a favorite decoration at Walt Disney World? Something that let's you know it's the season when ever you see it?