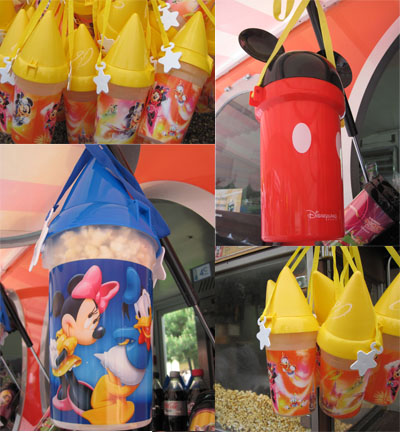 Though there were no churros or Dole Whips to be found at Disneyland Paris, one popular treat found in American Parks is also readily available at Disneyland Paris – pop pop popcorn!
Just like in the states, the aroma of fresh popcorn wafts through the air at Disneyland Paris, and it's offered in adorable collectible buckets. I spotted these three design variations during my visit in early May.
The 20th Anniversary bucket with the yellow lid, dangling star and soaring characters, is an exclusive to Disneyland Paris.
I really loved the the red and black Mickey Ears style, also stamped with the Disneyland Paris logo. (Alas, not enough room in the suitcase for this one!) The blue-topped bucket with Disney character favorites was also a popular choice among Guests throughout the Parks. I can't say for sure if these two buckets are exclusive to Disneyland Paris and am hoping The Disney Blog readers can help solve the mystery. If you've spotted similar designs at other Disney Parks, let us know!
Previously: Hats, but no Mouse Ears, at Disneyland Paris.