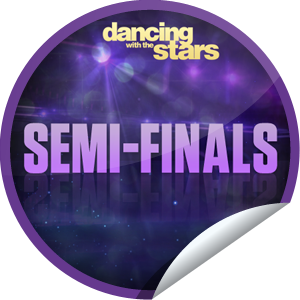 Four incredibly talented couples. Two dances each. Welcome to the semi-finals.
Maria and Derek rocketed to the top of a very close leader board this week. Their sleek Argentine tango earned them a perfect 30 from the judges, who had nothing but praise for the routine. After learning more about Maria's hardworking Greek family, we saw the couple's second dance, the jive. Bruno thought it was brilliant, Carrie Ann called Maria a winner, and Len liked it, even though it was non-traditional. Scores of 10, 9, 10 gave their jive a 29 and totaled 59 out of 60 for the night.
William and Cheryl's first dance was a stormy tango. Len wanted a tighter hold and crisper movements, but Bruno called it "ace." The judges gave them a score of 28 (9, 9, 10). We heard the struggles that William endured during his early life in Cuba and immigration to the United States, and then we were treated to the pair's exotic samba. Carrie Ann had to take a drink of water before raving about William's thrusting bounces. A perfect 30 gave them a total score of 58 out of 60 for the evening.
An emotional waltz from Donald and Peta pleased the judges, who awarded them a 28 (9, 9, 10). Donald shared some stories about his rough childhood before delivering a smooth samba with Peta. Len was left feeling that the routine was a little too careful, but Bruno and Carrie Ann loved it. A score of 29 (10, 9, 10) gave the couple a total of 57 out of 60 for the semi-finals.
Katherine and Mark's quickstep was inspired by the roaring twenties. Bruno thought it was incredible, Carrie Ann said it was Katherine's best dance ever, and Len, of course, saw an error. Scores of 10, 9, 10 gave them a 29 for their first dance. We saw Katherine as an adorable little girl that was always ready for a performance. A little girl no more, she bared her belly for her salsa with Mark. Their fantastic dance came to a disappointing end when Katherine suffered an injury (apparently a back spasm) during one of her last moves. The judges were kind…Carrie Ann said she let loose and Len called her Katherine the Great. Triple 9s brought their total for the night to 56 out of 60, leaving them in last place.
This has been the most competitive season ever. Who will dance in the finals next Monday? We'll find out tonight!