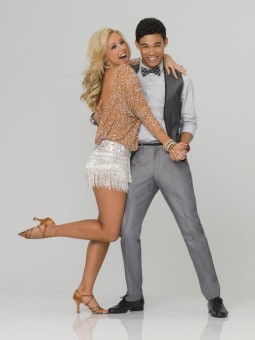 Yikes, double elimination night! Only six points separated the top and bottom of the leader board after Monday night's show. But, two couples were sent packing in advance of next week's semifinals.
The results show began with Donald, Peta, and Karina performing an encore of their trio jive. I'm still not over the fact that they didn't get a perfect 30. The first results of the night revealed that Donald and Peta were headed to the semifinals, but Katherine and Mark were in jeopardy.
The guys from DanceCenter (yay, one of my favorite parts of the season) returned to lighten the serious mood, and Chris Brown rocked the ballroom with his latest hit. The next batch of results brought Roshon and Chelsie and William and Cheryl to the stage, where Tom gave Roshon and Chelsie (who had Monday's second highest scores) the bad news that their time in the competition was over. William and Cheryl, however, secured a place in the semifinals.
The Macy's Stars of Dance Performance paid tribute to Dick Clark and "American Bandstand." We saw a performance from the Dancing With the Stars Live in Las Vegas show before hearing more results. Maria and Derek and Melissa and Maks were Monday's lowest scoring couples. While Maria and Derek made it safely to the semifinals, Melissa and Maks joined Katherine and Mark in jeopardy. The final results of the night ended Melissa and Maks' quest for the mirrorball trophy. On her birthday! Sad face.
I'm glad to be done with double elimination night. Ack, the stress! But, next week's semifinals show promises to be a close race and another nail-biter. I'll see you back here!