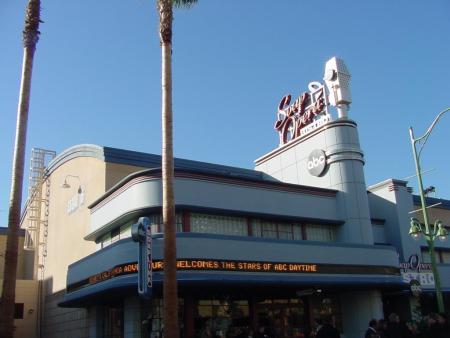 Can you believe it! We are just a little over 5 weeks away from the moment every Disney fan has been waiting for since 2008…the redo of Disney California Adventure will finally be completed! So, the OBVIOUS thing to do is move on to Part 4 of my DCA History Lesson! We have covered, so far, Sunshine Plaza, Golden Dreams, and Superstar Limo. This entry will be a lengthy one, since we are covering ALL of the past restaurants that have graced the face of the park. From quick service to sit-down, expensive to cheap, we are covering them all! Let's get started then! Grab a tray, place an order, and let's travel back in time!
Let's start off with the Quick Service locations around the park. They all tried to be unique and themed, though they were just QS places, but sometimes…the theme just didn't work. "Pizza Oom Mow Mow" and "Burger Invasion" were 2 of those locations. The former was a a mish mash of two connected beach cottages (with a variety of pizza choices). You ate in, what seemed to be, outside of a garage door adorned with airbrush art that they put on shirts when you go to the beach. One of the problems facing this was that there was NO BACKSTORY! With such an awkwardly designed place and no story of how it got there, it was just known as "That ugly restaurant by the Orange Stinger". It opened in Feb. of 2001 and closed in Sept. of 2010.
Right beside the glory that is "Pizza Oom Mow Mow" (btw, what a terrible pun!) was "Burger Invasion". This spaceship/hamburger crossover was one of the many McDonald's locations across the domestic Disney theme parks. This one, though, had no inside seating and no coverings…which is a deal breaker for most people. The McDonald's contract expired in 2007, but the Mickey D's fast food joint stayed around until Sept. of 2008. After it closed, it stayed closed…for 2 years. Eventually this, "Pizza Oom Mow Mow" and the S.S. Rustworthy (look for that in an upcoming blog!) were demolished and were replaced by the beautiful and delicious "Paradise Garden Grill" and "Boardwalk Pizza and Pasta"
"Malibu-Ritos" is the odd inclusion on this list since…it was almost never open. The last time it was reported to be open was Feb. 18th, 2001…ten days after the official grand opening. This, along with MANY other DCA food locations, experienced this problem. There were just too many restaurants to choose from, which left most empty. Eventually, Toy Story Midway Mania replaced the QS location in denial. Strips, Dips 'n' Chips was located nearby and features Chicken, Mozzarella, and Fish strips…all deep fried. This one, unlike its neighbor, was relatively popular and stayed open until its demise by TSMM in 2006. All the Strips and fried foods moved to the usually empty "Bountiful Valley Farmers Market". This location, when it first opened, was all about healthy and fresh foods. Shockingly, no one cares for healthy food at a theme park (who woulda-thunk!) so the place was never busy…until the fried foods came. With this addition, the people started coming.
One of the most interesting and unique entry into the QS world was "Hollywood & Dine". This food court was set inside a soundstage and gave of the feel that a movie was being filmed about the various famous restaurants that populated Hollywood. There were 4 main areas; "Don the Beachcomber" was based on the real place which started the tiki lounge craze in the 40's. It served Chinese food. "Wilshire Bowl" served burgers and chicken sandwiches and was based on the nightclub from the 30's in L.A. "Villa Capri" was meant to resemble the Italian restaurant co-owned by Frank Sinatra located in Hollywood. It served a variety of gourmet pizzas. Finally, "Schwab's Pharmacy" was an ode to the classic drug stores of California and the 40's. This section of the food court served soups and deli sandwiches. The problem that faced this food court was the same on that faced "Malibu-Ritos". There were just too many food locations in one park for the small amount of people that visited DCA. It closed within the first year, but its sign remained outside until 2005.
We can finally start talking about the Sit-Down locations! Let's start with the most doomed, "Avalon Cove". This Wolfgang Puck restaurant was fine-dining at its finest. With a large outdoor seating right on the lagoon, a beautiful indoor seating area, and wonderful gourmet food, what could go wrong! Well, lots. The ever present attendance issues hurt this restaurant as well as the huge population of fine dining choices throughout California that people decided not to pay to get into the park and then spend $100+ on a four course meal. Wolfgang gave up on his ambitious undertaking in Oct. of 2001. While "Ariel's Grotto" replaced the location within a year of its closing, the adjacent Cove Bar remained.
Now to end our list past DCA food areas, let's talk about my favorite restaurant concept ever, the "ABC Soap Opera Bistro." This dining location let you step right onto the various sets of your favorite ABC soaps (At this time, it included "Port Charles," "General Hospital," "All My Children," and "One Life to Live." The premise was so cool. You were on these sets while you ate your meal…oh, and your waiters and waitress are also stars in Soap Operas that are acted out in front of you. While you eat, you might be called out for cheating with your waiter or from stealing money from your waitress's aunt. It was such a fun concept, not only for the die-hard Soap fans that loved being on these sets, but also for the regular guest who had a great time being in the middle of a Soap Opera/Improv sketch. Because of the lack of crowds, (Sound Familiar?) the restaurant closed 21 months after it opened. It was replaced with Playhouse Disney-Live on Stage.
Whew! If you made it this far, I congratulate you! That is A LOT of restaurants, and I haven't even mentioned them all! (We will revisit the Wine Country Market in a later blog post.) Was one of your favorite menu items at one of the restaurants mentioned? Do you think one of these locations should have stayed open? Who really thought a burger spaceship was a good idea? Let me know in the comments below! Next week we will be tackling the past parades! I found a cool video of the Soap Opera Bistro on its final day that I will leave you with.
Until next time, Have a Magical Day!
P.S. I want a Revenge themed Soap Opera Bistro-esque restaurant in DHS immediately! I call playing Nolan!
(Pictures Courtesy of Laughingplace.com)