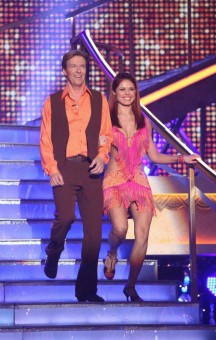 The results show kicked off with a live performance from Seal. Then Len (I think his heart has grown three sizes) expressed his wish that the producers would allow all the stars on the unusually close leader board to stay for another week. Alas, that was not meant to be…so whose dream of the mirrorball trophy was cut short?
First, we learned that Katherine and Mark and Maria and Derek will be back next week. Before revealing that Roshon and Chelsie were also safe, Tom told Gavin and Karina that they were in jeopardy.
I hope you hadn't put away your tissues yet, because you needed them again for the first AT&T Spotlight Performance of the season. Anna and her husband choreographed an emotional waltz in their honor of their friend, a dancer with stage 4 lung cancer. Wow. Can I have one of Len's happy pills now?
Getting back to the results, William and Cheryl were informed that they were safe, but Gladys and Tristan were placed in jeopardy before Jaleel and Kym found out they were safe. In an unusual twist, Brooke revealed that Sherri and Val were safe. As always, Sherri was full of enthusiasm as she screeched and danced with joy. After the season's first Macy's Stars of Dance performance, which featured some of the hottest male dancers in the industry, Rascal Flatts took the stage to entertain the audience.
The next couples declared safe were Donald and Peta and Melissa and Maks. This left Jack and Anna in jeopardy. Gladys and Tristan looked relieved to find out they were not in the bottom two. The evening ended with Jack and Anna's elimination. The judges looked shocked, as they had been pleased with Jack's performance. This was another example of how important the audience's votes are!
See you back here next week for some more of this season's high quality performances!