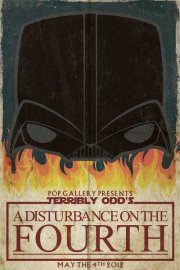 What happens when you plan a Star Wars art show to coincide with Star Wars Weekends at Disney's Hollywood Studios and then they move the dates on you. Well, you keep the show going any way because the name "A Disturbance on the Fourth" is too good to give up.
The show will take place at the Pop Gallery in Downtown Disney on May 4th. Show organizer Michael Reyes' "Terribly Odd" series has a growing following among the locals and the sci-fi convention circuit.
Learn more and see some concept sketches at the event page on Facebook.