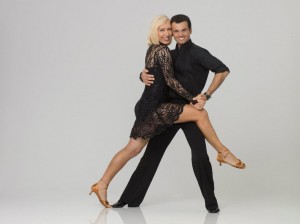 The results show kicked off with a rousing dance from the pros. After a peek at the previous night's backstage happenings, we learned that Melissa and Maks and Gladys and Tristan were safe, but that Martina and Tony were in jeopardy.
Next Matt Nathanson and Sugarland performed, accompanied by a very sexy dance from Peta and Tristan. Some more behind the scenes moments aired, then we found out Jaleel and Kym and William and Cheryl were safe. Surprisingly, though, high-scoring Roshon and Chelsie were in jeopardy.
The troupe stormed the dance floor to wow the audience. Then Katherine and Mark, Maria and Derek, and Sherri and Val were all declared safe. Sugarland returned for another song before Donald and Peta and Jack and Anna learned they will dance again next week. Gavin and Karina joined the other two couples in jeopardy.
When the three couples in jeopardy assembled on stage, first Roshon and Chelsie and then Gavin and Karina found out they will return to the ballroom on Monday. Sadly for Martina, her time on the dance floor had come to an end. It wasn't a shock, but she seemed genuinely committed to and enthusiastic about the competition. And I'm always sad to see Tony go, he appears to be such a nice guy and supportive teacher. Sigh.
The competition continues next week…meet me back here with your high heels!