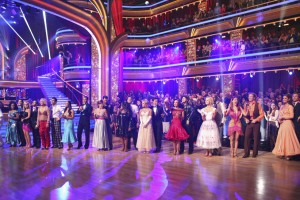 Last night, all the couples returned to the ballroom to perform another dance (side note-I almost typed boardroom, which led to an Apprentice/DWTS mash up daydream. You guys, that is a reality TV gold mine!). Here's how their opportunity to rustle up some more votes before the first elimination went…
Two couples earned 26 for the top score of the night (9, 8, 9). After finding out that Roshon thinks Chelsie needs a swagger upgrade (aw, poor Chelsie, but he was totes right), we were treated to another impressive performance from the Disney star to begin the show. Len liked their energetic quickstep. Katherine and Mark rocked the ballroom with a sexy jive. Carrie Ann raved over their performance.
Two couples scored 25 for the evening. Maria and Derek overcame Maria's slight rib injury to deliver an energetic jive. Bruno said it was "near perfection," and the judges awarded them scores of 8, 8, 9. William and Cheryl performed a quickstep for the last dance of the evening. Len wasn't pleased with William's footwork, and the pair received scores of 9, 7, 9.
After Donald and Peta's quickstep, Len actually apologized to Donald for under-marking him last week! Shocking! Their delightful dance earned them triple 8s for a total of 24.
Sherri and Val lit up the dance floor with their jive. Sherri is so much fun to watch that the judges were willing to overlook her mistakes. They gave them 8, 7, 8 for a total of 23.
The judges were slightly disappointed with Jaleel and Kym's jive after last week's great performance. Len thought it lacked attack. Scores of 7, 7, 8 gave the pair a 22.
Two couples earned triple 7s for a score of 21. Jack and Anna danced a fun jive. Carrie Ann said Jack over-danced the routine, but was still entertaining to watch. A leather-clad Gavin and Karina also performed a jive. Carrie Ann gave Gavin credit for pushing his boundaries, and Len said he improved over last week.
Melissa and Maks' quickstep was marred by Melissa's apparent nerves. The judges remarked that her nervousness took away from her performance. The pair scored 7, 6, 7 for a total of 20.
Gladys and Tristan pleased the crowd with their quickstep. Carrie Ann said Gladys was light on her feet, but had some issues with her frame. The audience loudly booed Len's score of 5. Scores of 7, 5, 7 gave the pair a total of 19.
Martina and Tony's jive was the "I want to hide my eyes" dance of the night. Martina is really trying, and seems to have fun on the dance floor, which the judges appreciate. Sadly, their scores of 6, 5, 6, only gave the couple a total of 17.
Last week's scores and votes will be added to those from last night to determine which star will be eliminated. We'll find out who that is tonight. See you in the ballroom!