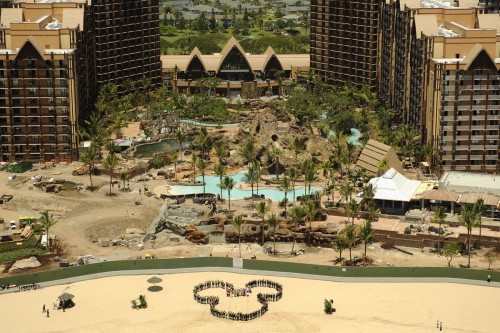 Jason Garcia at the Orlando Sentinel has done some excellent digging on the cause and effect of the recent firings, yes there was more than one, at Disney Vacation Club. As we speculated earlier, it turns out that former DVC President Jim Lewis was let go after failing to tie-up all the important details with Aulani – a new Disney resort in Hawaii that is half hotel and half DVC (give or take). But the exact details weren't known until Jason's article.
Disney concluded that Vacation Club executives had calculated dues amounts so low that they would not generate enough money to cover the cost of maintaining Aulani. The inadequate dues amounts were included in legal-disclosure documents submitted to the Hawaiian government.
Disney was forced to halt sales of its DVC units at Aulani or be forced to lose money on them for the 40 year length of each contract. Those annual dues are the 'hidden' expense of Timeshares, really the one financial bucket Disney can count on to keep up the property. So it's important to get it right.
There could have been other troubles when the resort didn't collect as many taxes as the state of Hawaii originally projected too. Those taxes are the reason I believe everything will get worked out. Both Disney and Hawaii want a properly functioning resort and it will eventually get figured out, even if Disney is forced to honor the few contracts it already sold.
So Jim Lewis had to go, and he took two other executives who were in the chain of command for making sure that dues figure was correct. Apparently Disney believes there was gross negligence because they did not even offer a severance package.  Regardless, we wish them all well in finding new jobs. It can be tough during an economic rough patch like we're experiencing today.