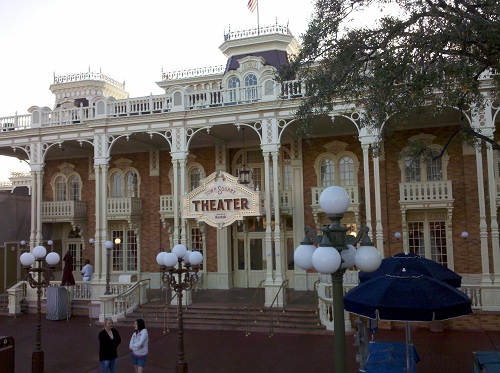 As you may have heard Mickey and Minnie are moving to a new meet and greet location in Town Square at the recently renamed, but not yet open, Town Square Theater. We posted recently about how this will be the first character meet and greet to feature a Fastpass option. There is still quite a bit of construction going on around the area, but rumors of exactly how the Fastpass system will work are beginning to circulate.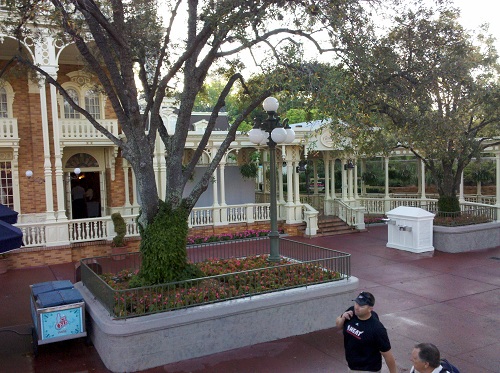 A big rumor and some thoughts below the jump:
Today @WDWNT posted this interesting tidbit on their Twitter account.
Disney CMs have confirmed that MK Town Square Theater FASTPASS to meet characters will be strictly enforced, so no late returns!
An interesting idea, but it raises some interesting questions that Disney's world famous guest service will have to deal with.
First, will the Mickey and Minnie Meet and Greet Fastpass be part of the larger network of Magic Kingdom attraction fast pass machines. Disneyland has been known to take one or two attractions off the larger network and work it so that you can only hold one FP for that attraction at a time. You can get another one in two hours or whenever your return time happens, but it doesn't prevent you from getting a FP at another attraction. I'm guessing they could do this at WDW too. This is a great solution for a FP queue that's either off the beaten path, like the Meet and Greet will be, or un-needed after a certain point in the day, when most of the park has had a chance to ride it if they want to.
Secondly, there are some legitimate reasons to miss your assigned FP return time. For example: what if your return time is during the 3 o'clock parade. That only runs once per day, forcing guests to choose between their photo with Mickey and perhaps their only chance to see some rare characters. (Note: Disney does offer fewer FP per attraction during parade time for that reason.) What if you're at your hotel and the Monorail breaks down or the bus doesn't show? Could Disney's position be 'Tough Luck' even when it's Disney's fault you're delayed? Having to decide which excuse is legitimate or not puts the poor cast member at the head of the queue in a bit of an ethical dilemma, 'recover' the guest like they've been trained to do (hopefully), or turn them away and risk getting a complaint in their personnel file. (I can see the lines forming at Guest Relations, conveniently located right across Town Square, already.) Rather than deal with this dilemma, Disney chooses not to ask and just allows everyone with a late time in at normal Fastpass queues.
Another reason Disney does not strictly enforce the return time on the regular attraction Fastpass is that this allows for groups of guests who arrive at different times of the day to ride together after the latest FP becomes valid. Yesterday, for example, I knew I had a group of four friends who would be arriving later in the day, so I took my two tickets and went back to Big Thunder Mountain RailRoad three times in the morning until I had six Fastpasses we could use as a group. To me, having a group photo with Mickey and Minnie to commemorate my vacation is much more important than riding a roller coaster together. Is this another exception to the 'no late returns' rule? Or is Disney saying 'no group photos' and cutting off that tremendous memory making moment (in a year when they're shouting out about memories being the thing).
As a general rule Disney does not like to say no to guests. They fear that word will cause bad feelings that prevent return visits and the sort of word of mouth marketing that is invaluable to the Disney brand. The percentage of late returns so far has not dramatically affected the flow of the stand-by line far enough to force Disney to cross the line and say no to guests. A good thing in my book. So why is it suddenly okay tell guests no when they're about to meet the world's most famous animated couple?
I repeat my previous assertion. That if Disney wants to manage wait time for meet and greets the easiest thing to do is add more characters. No matter the extra labor costs, it's a much lower price to pay than risk the badwill that comes from preventing guests from taking their picture with the mouse that started it all. At a time when the vacation budget of the average American family is smaller than ever, it is not the time to start telling guests no.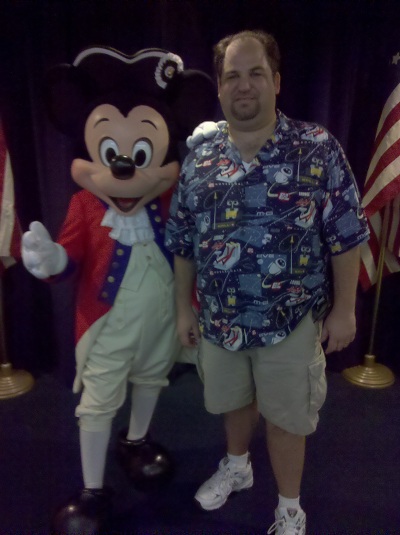 (Above: your author with the Main Cheese himself. Taken yesterday (crowd level 10 of 10) at the Hall of Presidents with no wait, proving that Disney can keep lines low if they want to.)