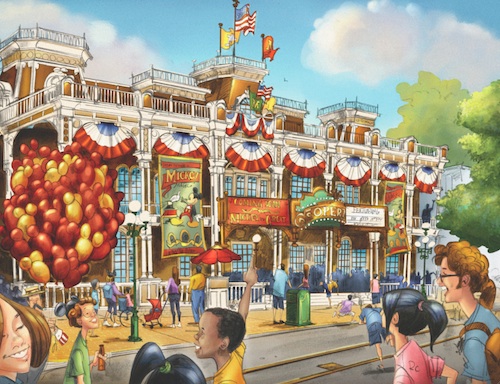 The big news earlier today was that Mickey and Minnie's Main Street Meet and Greet would be opening with the benefit of Fastpass to avoid the long waits that the Toontown Fair location had become known for. I'm a bit on the fence about this. I don't like Fastpass in general because I think it A) is unnecessary for most attractions, B) upsets the guests in the standby queue which is bad show, C) artificially inflates the guests in public spaces which means a lower overall capacity for the parks, D) totally negates the chance to enjoy an afternoon in the parks with an equal chance to enjoy the fastpass attractions… I can go on… but I'll stop now. Positioning FASTPASS as convenience, which you'll see Disney has done in their press release, is only true for those who are able to use it. Once Fastpass runs out or the return time passes beyond your availability, then it's no longer a convenience and instead becomes a huge burden.
That said, I can see Fastpass working for character meet and greets if, and it's an important if, they dedicate one room to that queue and then manage the standby queue to keep it under a reasonable length (say 20 minutes for the Big Cheese). Do I actually see Disney managing the queues that way? I doubt it, but I hope I'll be pleasantly surprised.
Yes, I know that people "hate" to wait for attractions and characters. Nothing sucks more than waiting 45 minutes for a 30 second experience with a character that can't even talk to you. To me that is a staffing problem and a capacity problem. Fastpass does nothing to address either of those. But it does make the guests that use it happy and they say good things about it, so it does have that one thing going for it. I don't see how that outweighs the rest, but oh well.
Disney's full press release for the announcement is below the jump. Please jump in on the comments with your thoughts on the changes:
Magic Kingdom officials have a hunch a really "hot ticket" in their realm this summer is going to be something other than a ride, a snack or a show. Rather, it's a first-ever opportunity to nail down a time to meet with Mickey Mouse.
When meet-and-greets with Mickey move into a permanent new location in Town Square later this spring, Magic Kingdom guests will be able obtain a Disney's FASTPASS ticket specifying a one-hour window when they can return to see the popular character for hugs, photos and autographs — without waiting in the standby queue. It will mark the first time the complimentary, computerized service has been available for a character meet-and-greet at any Disney Park.
Since spending time with Disney characters is at the top of the "must-do list" of many guests, the FASTPASS ticket will allow them to experience their Mickey Mouse meet-and-greets more conveniently. As a result, guests will be able to devote more time enjoying other Magic Kingdom experiences with family and friends.
The new meet-and-greet location, Town Square Theater, will be located inside the current Exposition Hall area just inside the park entrance. Imagineers already are working to completely transform the space for the new experience. "This isn't just remodeling Expo Hall; it is completely re-imagining this entire venue as a beautiful Victorian-era theater and the new home for Mickey Mouse," Jon Georges, WDI Director, Senior Show Producer, said.
"Mickey and Main Street, U.S.A. are great examples of pure Americana that complement each other very well," Concept Designer Jason Grandt said. "We drew a lot of inspiration from classic Mickey animated shorts such as The Nifty Nineties and Mickey's Grand Opera. Many of the scenes in these shorts look like they take place right on Main Street."
Guests arrive at a building befitting Mickey Mouse's stardom — with a grand-Victorian-theater elevation, including a marquee that glistens with gold-leaf trim and sparkles with lights. Inside, there's a mosaic floor, lush curtains with gold rope tie-backs and polished-brass chandeliers. Imagineers are creating new elements and surprises for Magic Kingdom guests, including an interactive queue — with an extra touch of Disney magic — and highly themed retail shops.
The queue takes guests "backstage," where Mickey is waiting to greet them in a rehearsal-room environment amid posters, steamer trunks and stage props.
In addition, during the New Fantasyland construction, royalty will be visiting as the Disney Princesses will be in Town Square Theater to meet and greet their loyal subjects.
Currently, guests can visit with Mickey Mouse in Tomorrowland, in a location to the right of Space Mountain. Meet-and-greet experiences with the Disney Princesses are currently at Adventureland Verandah.