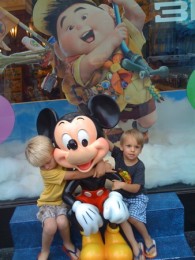 It's no secret that UP is doing well, and it should, it's awesome.  Yes, that about sums it up: AWESOME.
My wife and I took the boys (ages 3 and 5, respectively) to an advanced screening at the beautiful El Capitan Theatre in Hollywood, CA, which begs the question why did it take this long to write a review?  Eh, it's a long story and it can't compete with anything PIXAR is offering so we'll just skip the excuses and get straight to the heart of the matter, which happens to be just that, the heart of the matter.  UP is about heart and lots of it.
Sure, the same can be argued for just about anything that Disney-PIXAR has created, and it would all be true, but UP takes the idea to new heights – and I'm not talking balloons here.  It's an epic love story wrapped in a layer of silly, sweet fun, the likes of which haven't been seen on screen since, well, WALL-E.
There is a montage towards the beginning of the film that will bring a tear to the eye of even the toughest of customers, but not mine because I'm disgustingly stoic, but other customers, even the tough ones, they cried.
Kids, however, didn't.  They skipped right over the moments of tender sadness that some sites have warned against without even batting an eye.  PIXAR is subtle when it needs to be, and the "darker" areas of the film didn't appear to impact the children in the theater nearly as much as the snarl of a mean dog with a funny voice.
I have a theory that the story of UP (said theory contains some adult language and unnecessary ridicule at the expense of Kenny G) could be broken down into two distinct parts, those being the romantic quest of promises kept and the more "cartoonish" search for Snipe, respectively, and I stand by that.
I believe that the movie has two distinct levels of story being told, but it is done in one voice, and that's what makes it so darn amazing, or awesome as the case may be.
I'm not a believer of adding spoilers so early in the game, so I'm not going to give you any more than I have.  However, I will add that the plot of UP was something of a mystery to me prior to seeing it, and in hindsight any guess I may have wagered would have been wrong.  It surprised me and it felt good.  I felt up.
What? I couldn't not say it.
As I stated earlier we were lucky enough to see the show at the El Capitan Theatre, complete with a stage show called "Lighten Up" featuring Mickey and friends, not to mention the musical stylings of Mr. Ricky Martin, and an UP sundae in the soda shop after the show.
If you're in the Los Angeles area between now and July 23rd, treat yourself (and your family if you're so inclined) to an afternoon at the El Capitan.  Tell them Whit sent you (and act disgusted when they just stare at you blankly- it's a Hollywood thing).