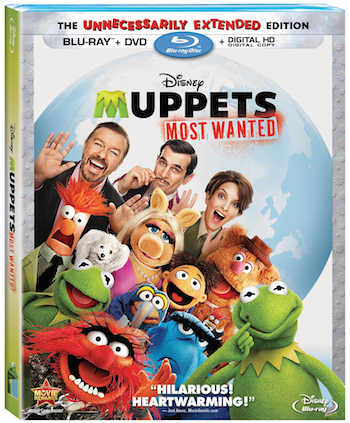 I had such low expectations for the sequel to the first Muppet movie entirely from Disney Studios and I'm pleased to say, the movie is better than what I expected. There's more of the goofy humor, a good song or two, and some great celebrity roles. But the treatment of the Muppets (with the exception of Sam the Bald Eagle) is a big miss. These characters are only shadows of their former selves, missing much of the life their original creative team endowed them with.
Still, if you're a fan of The Muppets or have young tots who may be fans. The Muppets Most Wanted DVD / Blu-Ray is worth owning. It comes out today and is available from Amazon.com (despite their recent spat with Disney over DVD wholesale prices).
Starring Ricky Gervais, Ty Burrell, and Tina Fey, this family friendly film makes its in-home debut with three versions of the film: The Original Theatrical Cut, the Statler and Waldorf Cut, and The Unnecessarily Extended Cut, featuring hilarious bonus content, plus more music, more mayhem, and more Muppets!
Clip from movie is one of the new songs, "I'm Number 1, You're Number 2."
"Muppets Most Wanted" picks up immediately following the events of the smash hit "The Muppets," as Kermit the Frog, Miss Piggy, Animal and the entire Muppet gang head out on a world tour. But mayhem follows, as the Muppets find themselves unwittingly entangled in an international crime caper headed by Constantine – the World's Number One Criminal and a dead ringer for Kermit the Frog!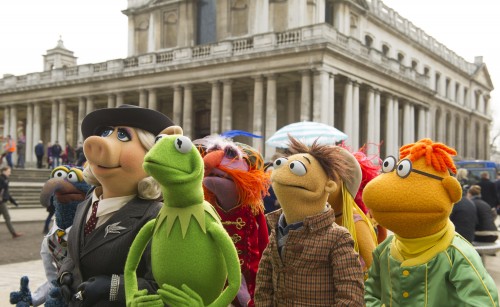 The Blu-ray Combo Pack also includes an all-new "Unnecessarily Extended Edition," featuring 12 minutes of exclusive scenes not seen in theaters! Also included on Blu-ray and Digital HD are additional hilarious bonus features, including Statler and Waldorf's version of the movie, and the laugh-out-loud gag reel, "The Longer, Longest Blooper Reel in Muppets History."
Read More »Disney's Muppets Most Wanted Blu-ray/DVD Escapes Major Errors