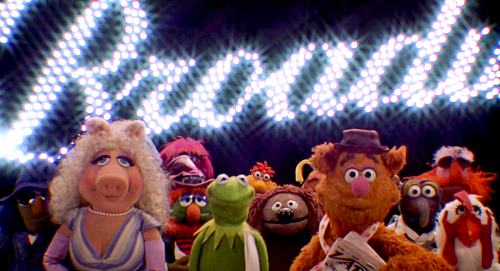 Disney has now made two movies with the Muppets since they bought them from the Jim Henson Company. I didn't feel that either film captured the magic of the Muppets I knew growing up. But I may be in the minority there. Maybe it's time for Disney to try another angle. No, not a TV show, that would make too much sense, more like a Broadway musical.
But wait, you say, wasn't that the whole idea behind "The Muppets Take Manhattan"? Yes, yes it was. But that's why it's such a brilliant idea. It gives Disney's creative musical team of Bobby Lopez and Kristen Anderson-Lopez a good foundation to build on and a story the public is vaguely familiar with. It also puts puppets back in the hands of performers, something Bobby and Kristen are very familiar with (Avenue Q and Finding Nemo at Disney's Animal Kingdom). I'll also take a few of Bret McKensie's songs from the recent movies, Alex. I still hum or sing "Man or a Muppet" to myself all the time.
If this story has any (Frog) legs, it's in large part due to the positive reaction Disney Theatrical President Thomas Schmacher had to a 2013 test of the idea with more than 85 muppets (carefully hidden from sight lines), sets, and musical numbers on stage. If this is a thing, it should start workshopping soon, with the goal to take over one of Jujamcyn's Broadway theaters. It just takes awhile to get funding together for one of these things and to work out the business model.
For proof that the Muppets will work on Broadway, check out this show tunes medley with Ethel Merman
Who doesn't love Ethel Merman!
Read more about the potential Muppets on Broadway show at the NY Post.