Update: Free "The Incredibles" offer is over. New reward is nicely done copy of the original sheet music for Mary Poppins' "Let's Go Fly A Kite" when you buy copy of "Saving Mr. Banks." Details on the Disney Movie's Anywhere site.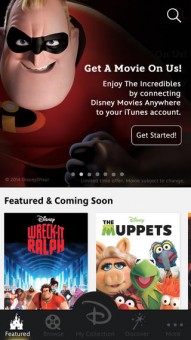 At first I wasn't interested in Disney Movie Anywhere, I had heard that it was only for ipad, iphone, and itouch owners. Those of use who don't own an iOS 7 capable device, were out of luck. But I was wrong. We 'alternate' service users can still view videos (including a few exclusive titles) for free on the website (which isn't really anywhere, but better than nowhere). But I'm getting ahead of myself.
What is Disney Movie's Anywhere? It's a new digital movie service and app that gives you cloud-based access to your library of digital Disney movies anywhere. For now, you can get movies you've downloaded via iTunes or Disney's digital locker and add them to the service. Those who download the all-new app for iPhone, iPad, and iPod touch can discover, purchase, manage, and watch movies from Disney, Pixar, and Marvel to watch at home and on the go. Just activate today and connect your Disney Movies Anywhere account to your iTunes account and you will receive a free digital copy of Disney•Pixar's classic "The Incredibles." (offer is only good for a limited time )
"Disney Movies Anywhere offers an exceptional consumer experience built around some of the most beloved and popular entertainment brands in the world," said Alan Bergman, President, The Walt Disney Studios. "This unique technology underscores Disney's commitment to meeting our consumers where they are with the content they want, and we're thrilled to debut with iTunes, the #1 digital media retailer in the world."
Connect your iTunes account to your Disney Movies Anywhere account to begin populating their Disney digital movie locker and watch movies online and on your device. Featuring simultaneous access on multiple devices, Disney Movies Anywhere enables consumers to stream and download Disney movies on their iPhone, iPad, and iPod touch and Apple TV (through iCloud or using AirPlay).