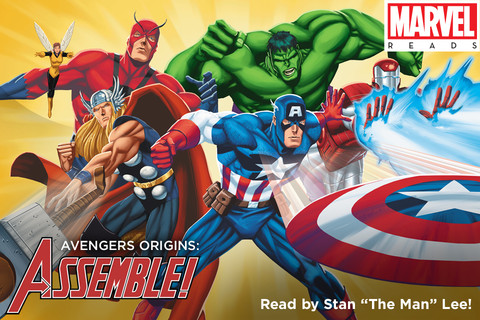 When Disney bought Marvel one of the things we fans expected to see was some synergy. It's happening, but not as you might have expected it. Rather than Marvel appearing in theme parks, although that will happen someday, we're seeing Disney lending some of its technological might to the Marvel universe along with some of its marketing magic. This is particularly true with Marvel's The Avengers, the first Marvel Superhero film completely marketed and distributed by Disney.
Disney Publishing Worldwide (DPW) just announced the launch of two new storybook app titles based on the Marvel Origins series, which were inspired by the original Marvel comics written by Stan Lee. Only one month prior to the much anticipated theatrical release of "Marvel's The Avengers," "Avengers Origins: Hulk" and "Avengers Origins: Assemble!" bring the anticipation for the movie to mobile devices now, allowing fans to read along with Stan Lee as they relive the epic origins of the Hulk, Captain America, Iron Man, and Thor.
"Because Tony Stark and Bruce Banner are two of my favorite characters, it's exciting to see their stories as Super Heroes come to life in digital storybook form just a few weeks before the release of 'Marvel's The Avengers' movie," said Stan Lee. "They are a great prologue for kids, taking them back to the beginning—revealing how Earth's Mightiest Heroes assembled to fight foes so powerful that no single Super Hero could defeat them."
"Avengers Origins: Hulk" is a multifaceted read-along app allowing children ages 4-10 to follow Lee's story narration of Dr. Bruce Banner's epic transformation into the Incredible Hulk. With detailed artwork and cutting-edge animations, comic fans can enjoy this multi-dimensional app through a variety of interactive touch-screen activities, including roaring, transforming into the Hulk, and testing the Hulk's strength by breaking through walls, stopping tanks, and more.
The "Avengers Origins: Assemble!" app serves as the perfect introduction to exciting Super Heroes like Iron Man, Captain America, Thor, Hulk, and more. Children can read along with Lee, match heroic accessories with each Super Hero, use Thor's powers and the Hulk's strength to stop the Atlanteans and Namor, and melt the ice to free Captain America from his frozen prison!
"Avengers Origins: Hulk" and "Avengers Origins: Assemble!" apps are available for $1.99 each from the App Store on iPad, iPhone and iPod touch or at www.itunes.com/appstore.