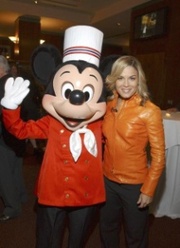 As part of its Disney Travel on Demand cable offerings The Walt Disney Company is adding a new cooking show starring Chef Cat Cora. Cat Cora is most popularly known as the female Iron Chef on the Food Network. She maintains her own website with recipes and a blog and she has her own charity with Chefs for Humanity.
"I've always been a huge fan of Disney, so exploring the Parks and
informing families about the culinary gems that exist, in addition to
sharing ideas for spicing up routine family dinners with some healthy
new recipes is a dream come true for me."
Walt Disney World's parks and resorts really do host some of the best dining options in the region. I hope that Chef Cat Cora truly explores the dining choices and helps Disney broaden some of the menus that are currently somewhat limited to do the efficiencies of the Disney Dining Plan and tourist sensibilities.
Disney's What's Cooking with Cat Cora will be available on Disney Travel on Demand Channel beginning the week of March 9th to viewers with Cablevision and Time Warner Cable as their provider. Hopefully this will soon be available wider or on the internet (remember what you said today Bob Iger.) In the meantime you can catch previews of the show online at the Disney Parks site.
The full press release including additional on-demand content is below the cut: