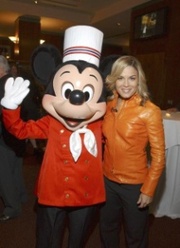 As part of its Disney Travel on Demand cable offerings The Walt Disney Company is adding a new cooking show starring Chef Cat Cora. Cat Cora is most popularly known as the female Iron Chef on the Food Network. She maintains her own website with recipes and a blog and she has her own charity with Chefs for Humanity.
"I've always been a huge fan of Disney, so exploring the Parks and
informing families about the culinary gems that exist, in addition to
sharing ideas for spicing up routine family dinners with some healthy
new recipes is a dream come true for me."
Walt Disney World's parks and resorts really do host some of the best dining options in the region. I hope that Chef Cat Cora truly explores the dining choices and helps Disney broaden some of the menus that are currently somewhat limited to do the efficiencies of the Disney Dining Plan and tourist sensibilities.
Disney's What's Cooking with Cat Cora will be available on Disney Travel on Demand Channel beginning the week of March 9th to viewers with Cablevision and Time Warner Cable as their provider. Hopefully this will soon be available wider or on the internet (remember what you said today Bob Iger.) In the meantime you can catch previews of the show online at the Disney Parks site.
The full press release including additional on-demand content is below the cut:
Disney Travel on Demand Launches Season Two; Cat Cora Leads Off Programming for Interactive Cable Networks

All-star line-up of celebrity hosts include Eva LaRue, and popular Disney Channel talent from Hannah Montana, High School Musical and Wizards of Waverly Place
BURBANK, Calif.–(BUSINESS WIRE)–Walt Disney Parks and Resorts today announced the new line up of shows for Disney Travel on Demand, a breakthrough in original programming that combines innovation, storytelling and the power of interactive television to deliver soup-to-nuts vacation planning and entertainment experience to television viewers. Available on Cablevision and Time Warner Cable systems across the country, the first of three new shows premiers with the launch of "Disney's What's Cooking with Cat Cora." A preview of the show is currently available on the Disney Parks Web site.
"Disney is not only a thrilling vacation destination, but a mecca for fine dining," said Cat Cora, Celebrity Chef. "The audience for Disney Travel on Demand provided the perfect venue to not only inform families of the culinary thrills in the park, but to offer recipes that easily incorporate into the daily meal plan."
Disney Travel on Demand launched across the country in May 2007 with its branded entertainment and has been successfully engaging viewers, on average, for the time it would take to watch a full episode of one show. What makes these shows even more impressive is the level of interactivity. Exclusively on Cablevision systems, channel 650, viewers can communicate directly with a Disney travel representative from the comfort of their own homes with the "Talk To Agent" feature. With the click of a button on the remote control, viewers will receive a telephone call back from a Disney travel representative within 15 minutes to make all their travel arrangements at one of Disney's destinations: Walt Disney World Resort in Florida, Disneyland Resort in California and Adventures by Disney vacations.
"Season one has proven to be a success in both entertainment value and in engaging our guests in the Disney park experience," said Leslie Ferraro, senior vice president, global marketing, Disney Destinations. "The quality of programming, the celebrity hosts and the insider insights provide the right mix of inspiration and preparation for the parents and excitement and fun for the kids."
Disney Travel on Demand Programs
Three new original programs will start rolling out on Cablevision the week of March 9. Each episodic series is designed to entertain and delight with programming about Disney Parks and Resorts. The new original programming includes:
"What's Cooking with Cat Cora" – Tag along with Cat Cora as she helps families shift their "hum drum" dining experiences from the ordinary to the extraordinary. Cat will open their eyes (and mouths) to delicious and nutritious food by taking families into the kitchens of Disney's world-class restaurants, giving each member a task, which results in an amazing meal.
"Exploring the Magic" – Hosted by some of Disney Channel's top stars including Moises Arias from Hannah Montana, Jake T. Austin from Wizards of Waverly Place, Olesya Rulin and Ryne Sanborn from High School Musical, and the Sprouse brothers from The Suite Life of Zack and Cody, each episode will focus on some of the new and more interesting sides of Disney Parks and Resorts for kids. From the High School Musical 2 – Schools Out! show at Disney's Hollywood Studios Resort, to some of the best attractions at Disney's Animal Kingdom Resort, each episode will be fun and entertaining for kids and adults and offer an all access behind the scenes look at how some of the magic is made.
"Disney Travel Insiders" – A new episode will be added to this series where our cameras tag along with celebrity hosts such as Eva LaRue as they give guests tips on how to make the most of their trip to a Disney Park. Viewers will get the scoop on exclusive, inside information, must-have travel tips and new experiences waiting for them at Disney Parks.
"Disney 24 Seven" – Disney Parks and Resorts are a 24 hour, 365 days a year operation. What does it take to keep the magic running smoothly and deliver each guest a unique Disney experience? Each episode takes you on a journey behind the scenes to show you round the clock operations of one of the most popular places on earth.
"We have enjoyed a fruitful relationship with Disney Travel on Demand. Utilizing the detailed research garnered from the campaign, Disney has successfully optimized the channel and it continually gets better each time, making it been one of our most successful advertiser VOD channels to date," said Barry Frey, Cablevision's senior vice president of advanced platform sales. "The 'Talk To Agent' feature is leading the charge in the way companies can leverage television to have a unique experience with consumers."
Disney Parks' Technology – Enhancing the Overall Guest Experience
Walt Disney was a pioneer in leveraging the television medium to showcase his resorts. More than 50 years ago, he introduced the nation to Disneyland park, even while it was under construction, through the popular Disneyland series that aired on ABC-TV. Once the park was open, Disney continued to promote the park and showcase its attractions through broadcasts originating from inside Disneyland Park.
Disney Travel on Demand is just one step in a series of new media launches that highlight the latest technologies incorporated into Walt Disney Parks and Resorts, the industry leader in using new technologies to forge connections with consumers.