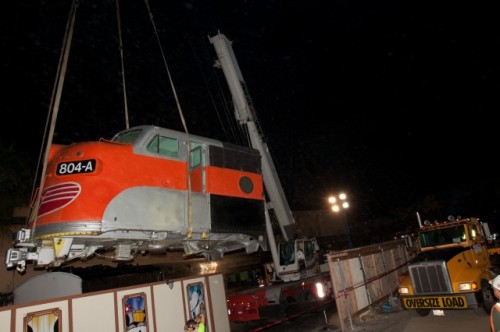 Despite having California right in the title, the park known as California Adventure has never had a coherent theme. Was it a movie studio? A fantasy-take on the golden state? or a wistful glance at the history of seaside amusement parks? There was no one theme, but it was trying to capture the gestalt of California. The new 'theme' is even less coherent (but that's a different article) and it requires the removal of everything that greeted guests and set up the park's original story.
The new story (about Walt's arrival in California) doesn't need railroads (despite the very important role they played in the early life of Walt Disney, including his arrival). So that means it's time for the California Zephyr to hit the road. But some good will come of it, the Disneyland Resort has donated the California Zephyr train previously located at the entrance to Western Pacific Railroad Museum in Portola, CA.
The train and related artifacts, which were part of the entrance to the theme park, arrived at their new home August 6 and will become part of the museum's Zephyr Project collection. Plans for a gallery dedicated to sharing the legacy of the California Zephyr are underway.
"Walt Disney's love of trains made this donation perfectly fitting," said Disneyland Resort President George A. Kalogridis. "The expansion of Disney California Adventure park provided the opportunity for us to make this meaningful donation and we are thrilled the train will offer museum visitors and train enthusiasts an immersive experience, much like it did here."
Read More »Disneyland Donates California Zephyr Locomotive to Western Pacific Railroad Museum