Disney's Art of Animation Resort is a visual treat for fans of Disney and Pixar animation. One of it's most…
As CEO Bob Iger revealed on Disney's most recent earnings call, the animated feature Frozen continues to generate massive profits…
(Editors note: I'm the process of writing the review for the recent re-release of "The Three Caballeros" and "Saludos Amigos" on DVD. That DVD has a wonderful extra that just skims the top of Walt's famous 1941 trip to Latin America. It has always left me wanting to know more about that trip. Now "Walt & El Grupo" has answered that call. I hope they're able to bring it out to Central Florida for a screening sometime soon.
I want to thank Leo Holzer for sending in this great article about what sounds like an exciting new documentary concerning a very critical moment in Walt's career. "Walt & El Grupo" is premiering at the San Francisco International Film Festival on Saturday, April 26, 2008. – John)
"Walt & El Grupo"
By Leo N. Holzer
Special to The Disney Blog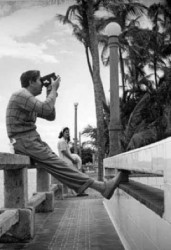 The loss of Oswald the Lucky Rabbit and the birth of Mickey Mouse in 1928. The creation and release of "Snow White and the Seven Dwarfs" in 1937. The development of Disneyland and its opening in 1955.
All of these were important and challenging periods for Walt Disney and his company.
But there was another time when life as Walt Disney knew it would forever change, both personally and professionally. The year was 1941, months before Pearl Harbor, when Walt and his studio were embroiled in labor unrest with an animators' strike and challenged by the shrinking international box office returns as the war in Europe expanded.
It's this period of Walt Disney's life — and the "godsend" he found with a U.S.-government-sponsored working trip to Central and South America — that documentary filmmaker Ted Thomas ("Frank and Ollie") explores in his new film, "Walt & El Grupo."