The 2022 Primetime Emmy Awards were announced yesterday (July 12), and The Walt Disney Company (TWDC) earned a whopping 147 nominations.
The nominations for the 74th Primetime Emmy awards were made by J.B. Smoove and Melissa Fumero, and streamed live over the internet.
---
The Breakdown
Those Primetime Emmy nods are spread across TWDC's many content brands and studios, including ABC Entertainment, Disney+, Disney Television Studios' 20th Television, 20th Television Animation and ABC Signature, Freeform, FX, FX Productions, Hulu, Lucasfilm Ltd., Marvel Studios, National Geographic Content, National Geographic Documentary Films, Searchlight Television, and Walt Disney Studios.
"This year's Emmy nominations reflect the depth, breadth and quality of Disney storytelling that's only possible because of our talented teams and amazing creative partners," said Bob Chapek, chief executive officer, TWDC.
"We are humbled that so much of the great work done across our creative brands has been recognized, and we look forward to bringing even more great storytelling to life as we approach Disney's second century."
---
Hulu
Hulu's received earned a record 58 Primetime Emmy nominations in total. Last year they only received 26.
"Only Murders in the Building" received 17 nominations, despite lead actress Selena Gomez getting shut out, while the limited series "Dopesick" received 14.
Limited series "Pammy and Tom" got 10 nods, including both lead actors and the series itself, and "The Dropout" got six. Meanwhile historical drama "The Great" received four nominations, and the documentary "McCartney 3, 2, 1" got three.
Also nominated were "Candy," "Changing The Game," and "How I Met Your Father."
---
Disney+
Disney+ received 34 Primetime Emmy nominations across various categories, compared to 71 last year.
Marvel Studios had a respectable showing with 19 nods for its Disney+ shows, mostly in the Technical/Creative Arts categories.
"Moon Knight" led with eight nods, "Loki" scored six total, and "Hawkeye" received two. Marvel's "What If…" also got three nominations, one posthumously for Chadwick Boseman.
The Disney+ documentary "The Beatles: Get Back" received five nods, LucasFilm's "The Book of Boba Fett" got four nods, and even "Chip 'n Dale: Rescue Rangers" got a nomination.
Also nominated were "Star Wars: Visions," "We Feed People," "When Billie Met Lisa," and "The World According To Jeff Goldblum."
---
ABC
Broadcast network ABC received 23 Primetime Emmy nominations, seven of those for the debut season of "Abbott Elementary."
"Dancing With The Stars" received three in its final season before it moves to Disney+, while "black-ish" received two nods in its final season, but sadly none for any of the cast.
Also nominated were "American Idol," "The Conners," "Jimmy Kimmel Live!" (its 12th consecutive nomination), "The Oscars" broadcast, "Shark Tank," and the variety specials "Live In Front Of A Studio Audience: The Facts Of Life And Diff'rent Strokes" and "Step Into… The Movies With Derek And Julianne Hough."
---
FX
FX Network also earned 23 Primetime Emmy nominations, including seven for "What We Do In The Shadows," five for "Impeachment: American Crime Story," and three for "Atlanta."
Ryan Murphy's horror series, "American Horror Story: Double Feature" and "American Horror Stories" (which returns July 21), received two nominations each.
Also nominated were "Archer," "Controlling Britney Spears (New York Times Presents)," "Under The Banner Of Heaven," and "Words With Ike (Cake)."
---
Fox
FX's sister network Fox received six Primetime Emmy nods, with "The Masked Singer" getting two, and "Bob's Burger," "Call Me Kat," "9-1-1: Lone Star," and "The Simpsons" getting one each.
---
National Geographic
National Geographic received two Primetime Emmy nominations, both for the reality show "Life Before Zero."
---
Freeform
Freeform got one Primetime Emmy nod for "grown-ish," but not in any major category.
---
The Show
The 74th Primetime Emmy Awards will air live Monday, September 12, starting at 8 pm ET/5 pm PT on NBC. It will also stream live for the first time on Peacock.
A week prior, the 2022 Creative Arts Emmy Awards will be held over two consecutive nights on Saturday, September 3 and Sunday, September 4.
An edited presentation of those two nights will air Saturday, September 10, on FXX.
No host has been announced yet for either awards broadcasts.
---
The Nominees
Here is the complete listing of all Primetime Emmy nominations received by Disney-related broadcast, cable, and streaming outlets, broken down by show:
Only Murders in the Building (Hulu/20th Television)
17 Nominations
Outstanding Comedy Series
Outstanding Lead Actor in a Comedy Series — Steve Martin
Outstanding Lead Actor in a Comedy Series — Martin Short
Outstanding Guest Actor in a Comedy Series — Nathan Lane
Outstanding Guest Actress in a Comedy Series — Jane Lynch
Outstanding Directing for a Comedy Series — Jamie Babbit
Outstanding Directing for a Comedy Series — Cherien Dabis
Outstanding Writing for a Comedy Series — Steve Martin & John Hoffman
Outstanding Casting for a Comedy Series
Outstanding Contemporary Costumes – "Where Is Tim Kono?"
Outstanding Main Title Design
Outstanding Music Composition for a Series (Original Dramatic Score) — "The Boy From 6B"
Outstanding Original Main Title Theme Music
Outstanding Production Design for a Narrative Program (Half-Hour) — "True Crime"
Outstanding Single-Camera Picture Editing for a Comedy Series — "Fan Fiction"
Outstanding Single-Camera Picture Editing for a Comedy Series — "Open and Shut"
Outstanding Sound Mixing for a Comedy or Drama Series (Half-Hour) and Animation — "The Boy From 6B"
---
Dopesick (Hulu/20th Television)
14 Nominations
Outstanding Limited or Anthology Series
Outstanding Lead Actor in a Limited or Anthology Series or Movie — Michael Keaton
Outstanding Supporting Actor in a Limited or Anthology Series or Movie — Will Poulter
Outstanding Supporting Actor in a Limited or Anthology Series or Movie — Peter Sarsgaard
Outstanding Supporting Actor in a Limited or Anthology Series or Movie — Michael Stuhlbarg
Outstanding Supporting Actress in a Limited or Anthology Series or Movie — Kaitlyn Dever
Outstanding Supporting Actress in a Limited or Anthology Series or Movie — Mare Winningham
Outstanding Directing for a Limited or Anthology Series or Movie — Danny Strong
Outstanding Writing for a Limited or Anthology Series or Movie — Danny Strong
Outstanding Casting for a Limited or Anthology Series or Movie
Outstanding Cinematography for a Limited or Anthology Series or Movie — "Breakthrough Pain"
Outstanding Single-Camera Picture Editing for a Limited or Anthology Series or Movie — "Black Box Warning"
Outstanding Single-Camera Picture Editing for a Limited or Anthology Series or Movie — "First Bottle"
Outstanding Sound Mixing for a Limited or Anthology Series or Movie — "Pseudo-Addiction"
---
Pam & Tommy (Hulu)
10 Nominations
Outstanding Limited or Anthology Series
Outstanding Lead Actor in a Limited or Anthology Series or Movie — Sebastian Stan
Outstanding Lead Actress in a Limited or Anthology Series or Movie — Lily James
Outstanding Supporting Actor in a Limited or Anthology Series — Seth Rogen
Outstanding Sound Mixing for a Limited or Anthology Series or Movie — "The Master Beta"
Outstanding Single-Camera Picture Editing for a Limited or Anthology Series Or Movie — "I Love You, Tommy"
Outstanding Contemporary Costumes – "Destroyer of Worlds"
Outstanding Period and/or Character Hairstyling — "Jane Fonda"
Outstanding Period and/or Character Makeup (Non-Prosthetic) — "Jane Fonda"
Outstanding Casting for a Limited or Anthology Series
---
Moon Knight (Disney+/Marvel Studios)
8 Nominations
Outstanding Cinematography for a Limited or Anthology Series or Movie — "Asylum"
Outstanding Fantasy/Sci-Fi Costumes — "Gods and Monsters"
Outstanding Music Composition for a Limited or Anthology Series, Movie or Special (Original Dramatic Score) — "Asylum"
Outstanding Character Voice-Over Performance — F. Murray Abraham
Outstanding Sound Editing for a Limited or Anthology Series, Movie or Special — "Gods and Monsters"
Outstanding Sound Mixing for a Limited or Anthology Series or Movie — "Gods and Monsters"
Outstanding Stunt Coordination for a Drama Series, Limited or Anthology Series or Movie
Outstanding Stunt Performance – "Gods and Monsters"
---
Abbott Elementary (ABC/20th Television)
7 Nominations
Outstanding Comedy Series
Outstanding Lead Actress in a Comedy Series — Quinta Brunson
Outstanding Supporting Actor in a Comedy Series — Tyler James Williams
Outstanding Supporting Actress in a Comedy Series — Janelle James
Outstanding Supporting Actress in a Comedy Series — Sheryl Lee Ralph
Outstanding Writing for a Comedy Series — Quinta Brunson
Outstanding Casting for a Comedy Series
---
What We Do in the Shadows (FX/FX Productions)
7 Nominations
Outstanding Comedy Series
Outstanding Writing for a Comedy Series — Sarah Naftalis
Outstanding Writing for a Comedy Series — Stefani Robinson
Outstanding Fantasy/Sci-Fi Costumes — "The Wellness Center"
Outstanding Sound Editing for a Comedy or Drama Series (Half-Hour) and Animation — "The Escape"
Outstanding Sound Mixing for a Comedy or Drama Series (Half-Hour) and Animation — "The Casino"
Outstanding Stunt Coordination for a Comedy Series or Variety Program
---
The Dropout (Hulu/20th Television/Searchlight Television)
6 Nominations
Outstanding Limited or Anthology Series
Outstanding Lead Actress in a Limited or Anthology Series or Movie — Amanda Seyfried
Outstanding Directing for a Limited or Anthology Series or Movie — Michael Showalter
Outstanding Directing for a Limited or Anthology Series or Movie — Francesca Gregorini
Outstanding Writing for a Limited or Anthology Series or Movie — Elizabeth Meriwether
Outstanding Casting for a Limited or Anthology Series or Movie
---
Loki (Disney+ / Marvel Studios)
6 Nominations
Outstanding Cinematography for a Single-Camera Series (One Hour) — "Lamentis"
Outstanding Production Design for a Narrative Period or Fantasy Program (One Hour or More) — "Glorious Purpose"
Outstanding Fantasy/Sci-Fi Costumes — "Glorious Purpose"
Outstanding Original Main Title Theme Music
Outstanding Production Design for a Narrative Period or Fantasy Program (One Hour or More) — "Glorious Purpose"
Outstanding Sound Editing for a Comedy or Drama Series (One Hour) — "Journey Into Mystery"
---
The Beatles: Get Back (Disney+/Walt Disney Studios)
5 Nominations
Outstanding Documentary or Nonfiction Series
Outstanding Directing for a Documentary/Nonfiction Program — "Part 3: Days 17-22"
Outstanding Picture Editing for a Nonfiction Program — "Part 3: Days 17-22"
Outstanding Sound Editing for a Nonfiction or Reality Program (Single or Multi-Camera) — "Part 3: Days 17-22"
Outstanding Sound Mixing for a Nonfiction or Reality Program (Single or Multi-Camera) — "Part 3: Days 17-22"
---
Impeachment: American Crime Story (FX/20th Television/FX Productions)
5 Nominations
Outstanding Lead Actress in a Limited or Anthology Series or Movie — Sarah Paulson
Outstanding Writing for a Limited or Anthology Series or Movie — Sarah Burgess
Outstanding Contemporary Hairstyling — "The Assassination Of Monica Lewinsky"
Outstanding Contemporary Makeup (Non-Prosthetic) — "The Assassination Of Monica Lewinsky"
Outstanding Prosthetic Makeup — "The Wilderness"
---
The Book of Boba Fett (Disney+/Lucasfilm Ltd.)
4 Nominations
Outstanding Fantasy/Sci-Fi Costumes — "Chapter 1: Stranger in a Strange Land"
Outstanding Sound Editing for a Comedy or Drama Series (One Hour) — "Chapter 6: From the Desert Comes a Stranger"
Outstanding Special Visual Effects in a Season or a Movie
Outstanding Stunt Coordination for a Drama Series, Limited or Anthology Series or Movie
---
The Great (Hulu)
4 Nominations
Outstanding Lead Actor in a Comedy Series — Nicholas Hoult
Outstanding Lead Actress in a Comedy Series — Elle Fanning
Outstanding Production Design for a Narrative Period or Fantasy Program (One Hour or More) — "Wedding"
Outstanding Period Costumes — "Five Days"
---
Atlanta (FX)
3 Nominations
Outstanding Lead Actor in a Comedy Series —Donald Glover
Outstanding Directing for a Comedy Series — Hiro Murai, "New Jazz"
Outstanding Cinematography for a Single-Camera Series (Half-Hour) — "Three Slaps"
---
Dancing with the Stars (ABC)
3 Nominations
Outstanding Choreography for Variety or Reality Programming — Daniella Karagach, Choreographer
Outstanding Lighting Design/Lighting Direction for a Variety Series — "Finale"
Outstanding Technical Direction, Camerawork, Video Control for a Series — "Horror Night"
---
McCartney 3,2,1 (Hulu)
3 Nominations
Outstanding Cinematography for a Nonfiction Program — "These Things Bring You Together"
Outstanding Sound Editing for a Nonfiction or Reality Program (Single or Multi-Camera) — "The People Were Loving Us!"
Outstanding Sound Mixing for a Nonfiction or Reality Program (Single or Multi-Camera) — "These Things Bring You Together"
---
The Oscars (ABC)
3 Nominations
Outstanding Variety Special Live
Outstanding Choreography for Variety or Reality Programming — Fatima Robinson, Choreographer
Outstanding Production Design for a Variety Special
---
What If…? (Disney+/Marvel Studios)
3 Nominations
Outstanding Animated Program
Outstanding Character Voice-Over Performance — Chadwick Boseman
Outstanding Character Voice-Over Performance — Jeffrey Wright
---
American Horror Story: Double Feature (FX/20th Television/FX Productions)
2 Nominations
Outstanding Contemporary Makeup (Non-Prosthetic) — "Gaslight"
Outstanding Sound Editing for a Limited or Anthology Series, Movie or Special — "Gaslight"
---
American Horror Stories (FX/20th Television/FX Productions)
2 Nominations
Outstanding Contemporary Hairstyling — "Game Over"
Outstanding Contemporary Makeup (Non-Prosthetic) — "Rubber(wo)man Part One" and "Rubber(wo)man Part Two"
---
black-ish (ABC/ABC Signature)
2 Nominations
Outstanding Contemporary Costumes – "That's What Friends Are For"
Outstanding Contemporary Hairstyling – "That's What Friends Are For"
---
Hawkeye (Disney+/Marvel Studios)
2 Nominations
Outstanding Stunt Coordination for a Comedy Series or Variety Program
Outstanding Stunt Performances — "Echoes"
---
How I Met Your Father (Hulu/20th Television)
2 Nominations
Outstanding Cinematography for a Multi-Camera Series — "Pilot"
Outstanding Multi-Camera Picture Editing for a Comedy Series — "Timing Is Everything"
---
Life Below Zero (National Geographic)
2 Nominations
Outstanding Cinematography for a Reality Program — "Fire in the Sky"
Outstanding Picture Editing for an Unstructured Reality Program — "Fire in the Sky"
---
Live in Front of a Studio Audience: 'The Facts of Life' and 'Diff'rent Strokes' (ABC)
2 Nominations
Outstanding Variety Special (Live)
Outstanding Production Design for a Variety Special
---
Shark Tank (ABC)
2 Nominations
Outstanding Structured Reality Program
Host for a Reality or Competition Program
---
We Feed People (Disney+ / National Geographic Documentary Films)
2 Nominations
Outstanding Documentary or Nonfiction Special
Outstanding Cinematography for a Nonfiction Program
---
9-1-1: Lone Star (20th Television)
1 Nomination
Outstanding Stunt Coordination for a Drama Series, Limited or Anthology Series or Movie
---
American Idol (ABC)
1 Nomination
Outstanding Technical Direction, Camerawork, Video Control for a Series — "Disney Night"
---
Archer (FX/FX Productions)
1 Nomination
Outstanding Character Voice-Over Performance — Jessica Walter
---
Bob's Burgers (20th Television Animation)
1 Nomination
Outstanding Animated Program
---
Candy (Hulu/20th Television)
1 Nomination
Outstanding Main Title Design
---
Central Park (20th Television Animation)
1 Nomination
Outstanding Character Voice-Over Performance — Stanley Tucci
---
Changing the Game (Hulu)
1 Nomination
Exceptional Merit in Documentary
---
Chip 'n Dale: Rescue Rangers (Disney+/Walt Disney Studios)
1 Nomination
Outstanding Television Movie
---
The Conners (ABC)
1 Nomination
Outstanding Cinematography for a Multi-Camera Series — "The Wedding of Dan and Louise"
---
Controlling Britney Spears – New York Times Presents (FX)
1 Nomination
Outstanding Documentary or Nonfiction Special
---
grown-ish (Freeform/ABC Signature)
1 Nomination
Outstanding Cinematography for Single-Camera Series (Half-Hour) — "Put Your Hands Where My Eyes Could See"
---
Jimmy Kimmel Live! (ABC/ABC Signature)
1 Nomination
Outstanding Variety Talk Series
---
The Ms. Pat Show (20th Television)
1 Nomination
Outstanding Directing for a Comedy Series — Mary Lou Belli
---
The Simpsons (20th Television Animation)
1 Nomination
Outstanding Animated Program
---
Star Wars: Visions (Disney+/Lucasfilm Ltd.)
1 Nomination
Outstanding Short Form Animated Program
---
Step Into… The Movies with Derek and Julianne Hough (ABC)
1 Nomination
Outstanding Choreography for Variety or Reality Programming — Tessandra Chavez & Derek Hough
---
This Is Us (20th Television)
1 Nomination
Outstanding Original Music and Lyrics — "Day of the Wedding"
---
Under the Banner of Heaven (FX/FX Productions)
1 Nomination
Outstanding Lead Actor in a Limited or Anthology Series or Movie — Andrew Garfield
---
When Billie Met Lisa (The Simpsons) (Disney+/20th Television Animation)
1 Nomination
Outstanding Short Form Animated Program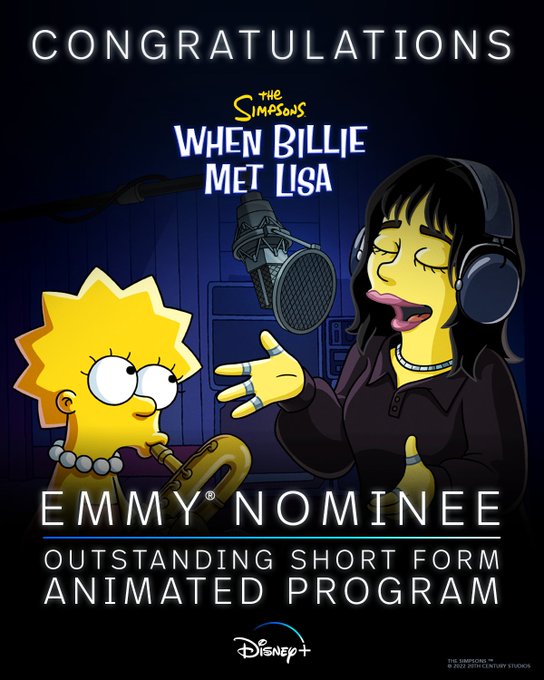 ---
The World According to Jeff Goldblum (Disney+/National Geographic)
1 Nomination
Outstanding Hosted Nonfiction Series or Special
---
Words With Ike (Cake) (FX / FX Productions)
1 Nomination
Outstanding Actor in a Short Form Comedy or Drama Series — Ikechukwu Ufomadu
---