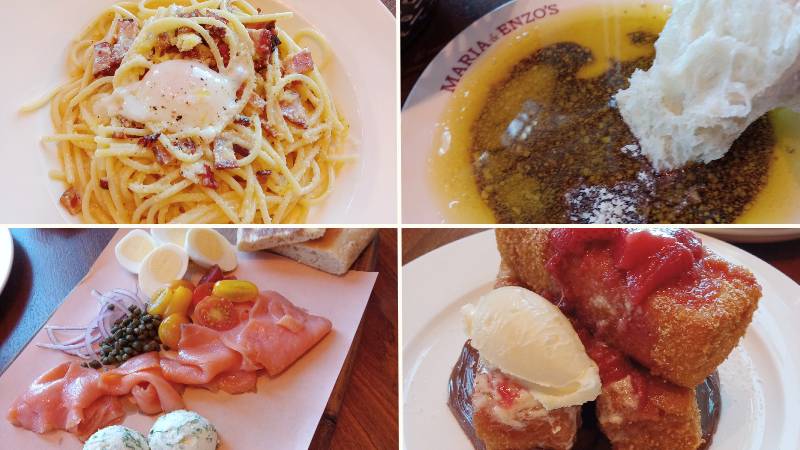 It's no secret Walt Disney World has some phenomenal places to dine, and if you're looking for an amazing brunch with great food, drink, and atmosphere, you must try Maria and Enzo's Ristorante at Disney Springs.
This last weekend The Disney Blog was invited to try the brunch menu that has recently been brought back to Maria and Enzo's for guests to enjoy.
The setting for the restaurant is an elegant Italian trattoria set in a stylish airline terminal built in the 1930s, and the design really makes you feel like you've been taken back in time.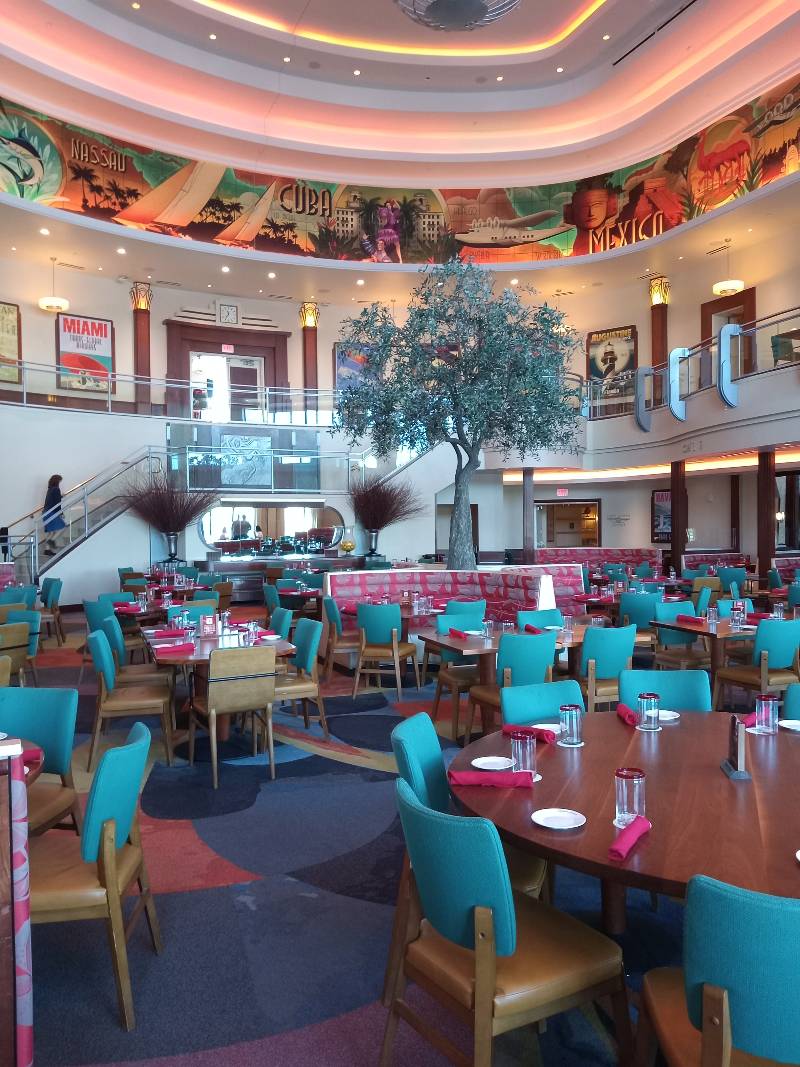 The dining room is on the lower level, reached by a grand staircase (or hidden elevator), and offers great views of the lake and the Characters in Flight balloon, if it's docked.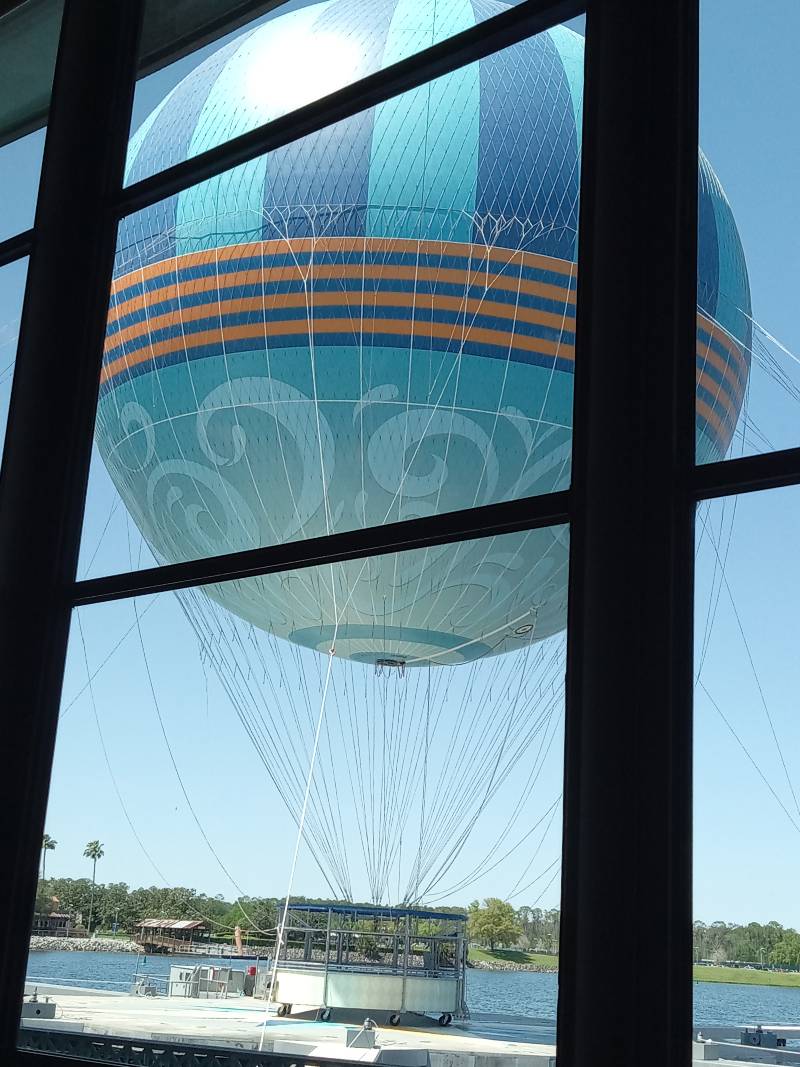 My guest and I arrived right when they opened their doors, and were some of the first diners of the day.
I was impressed by the fact we were immediately asked about any food allergies (I have several) by our server Elise, and Chef Gilberto Cabello came out to discuss the dishes and allergens. Most restaurants I end up being the one to bring my allergies up.
The food at Maria and Enzo's is inspired by Sicilian cuisine, but the brunch also features new twists on favorite dishes.
---
Our server brought out a complimentary basket of rustic baguette slices with a plate of olive oil and a delightful balsamic vinegar swirled together with a table-side added scoop of grated parmesean to dip the bread in.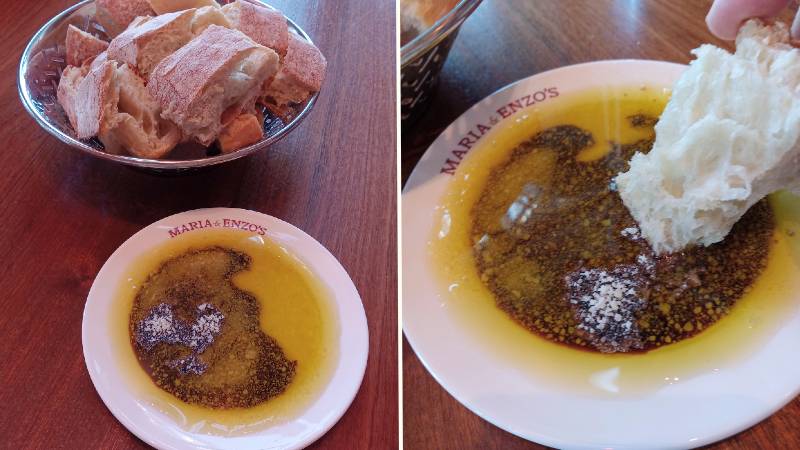 ---
We tried several of the brunch-only dishes during our visit, starting with the Crunch Toast. An upgraded version of French Toast, it features three sticks of thick cornflake crusted and battered brioche, resting on a bed of nutella and accented with a strawberry compote and a scoop of mascarpone.
No syrup was needed for this perfectly sweetened dish, and I loved the texture combination of the crispy crunchy exterior and fluffy soft interior.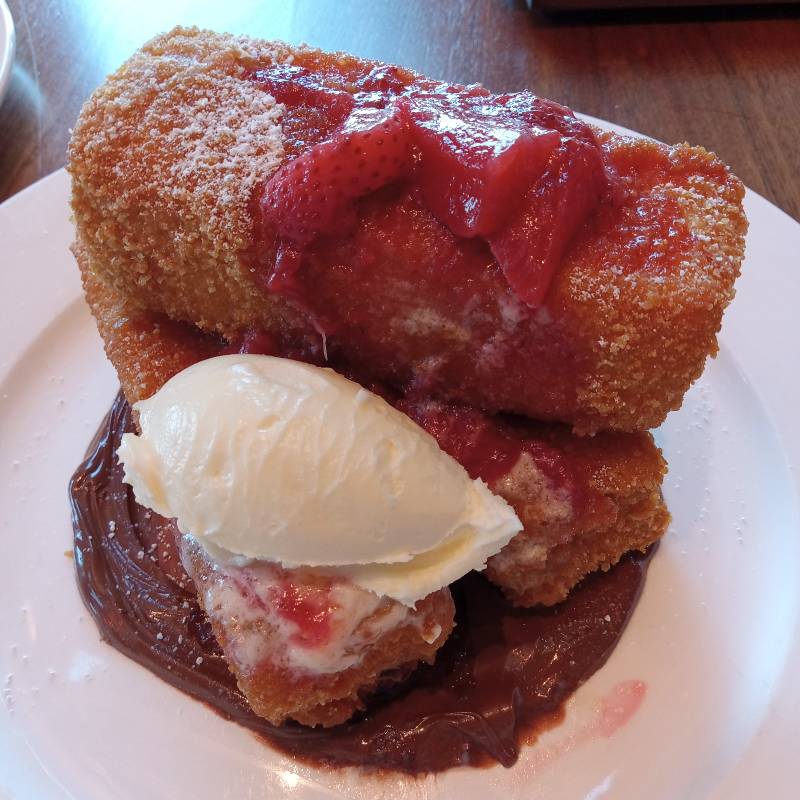 ---
Next, we tried the Smoked Salmon Board, which would be perfect to share. It features a ribbon of fresh salmon surrounded by tomatoes, red onion, capers, chive mascarpone, hard boiled eggs, and a few pieces of toasted schiacciata bread.
It was like a charcuterie version of the popular lox and bagels, and the substitution of the chive mascarpone in place of traditional cream cheese really elevated this dish.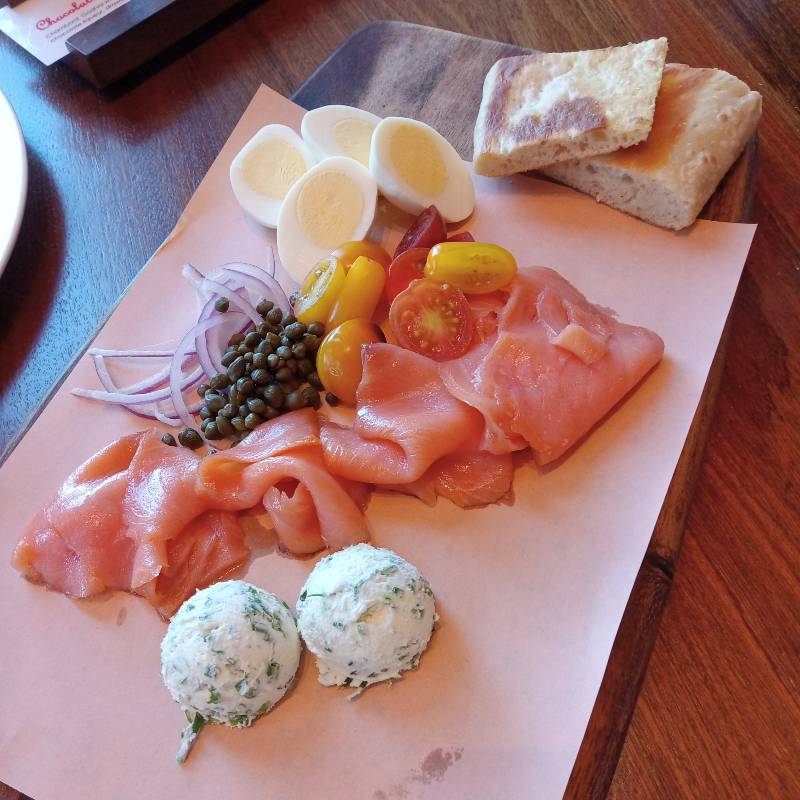 ---
Next up was the Eggs Benedetto, which gives the New York City-created dish an Italian makeover by pairing the poached egg with prosciutto di parma and a pargmigiano crema on a toasted house focaccia.
There is three to the order, and while I liked the dish, I found the pargmigiano crema too salty to eat more than one. My guest didn't think it was too salty and ate the other two. One thing I did like is the heat of the dish slightly melted the prosciutto, giving it a different texture.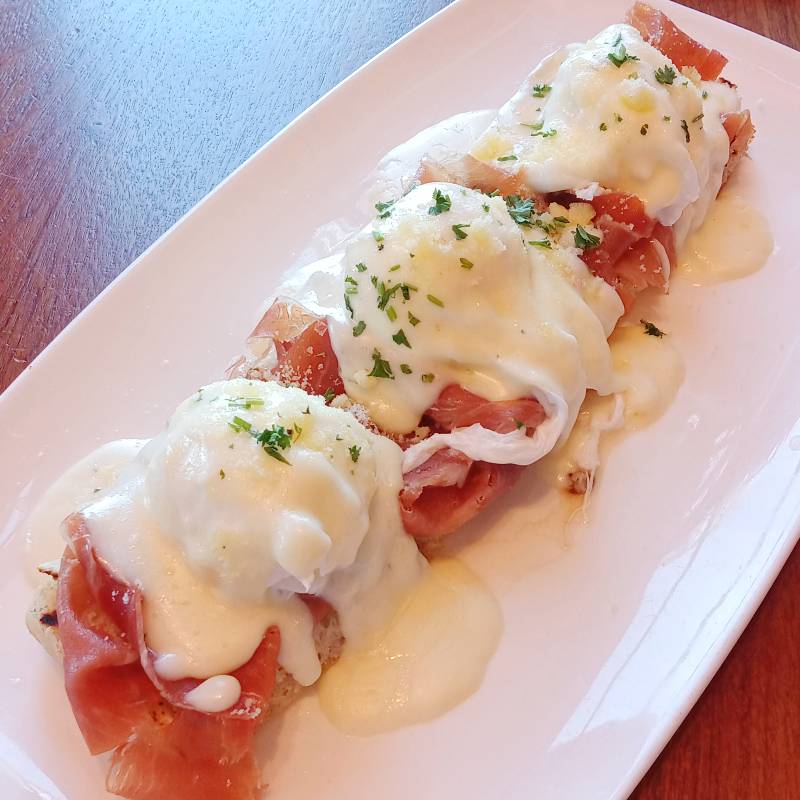 ---
While we were waiting our final dish, I ordered a side of the Cacio E Pepe Potatoes…and I'm so glad I did. I am a huge fan of the Cacio E Pepe flavor, and the potatoes were golden baby potatoes that were steamed, smashed, and flash fried, so the outer skin was bright and crispy, but the inside was hearty and fluffy. A definite improvement on the traditional breakfast potato dish.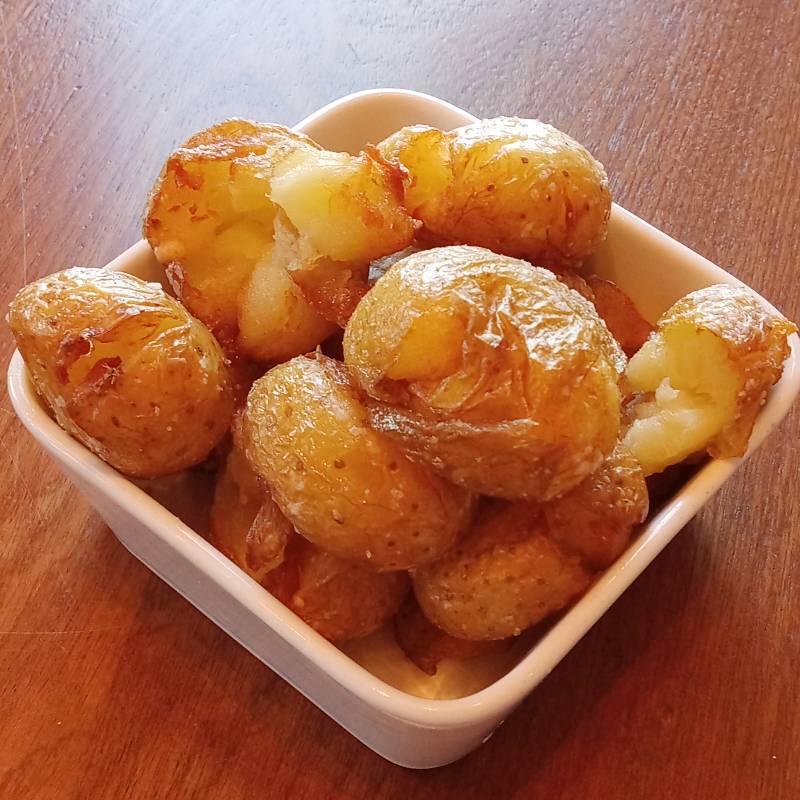 ---
Our final dish was the Spaghetti Carbonara Americana, and it was a delicious twist on the traditional Carbonara. The noodles were actually Spaghetti alla chitarra, a thicker version of spaghetti that is made by hand-pressing the dough into a wooden mold with square grooves to produce its unique shape.
This heftier noodle was the base for Maria and Enzo's dish, which featured parmigiana sauce, and thick-cut applewood bacon, topped with a poached egg.
Once the egg yolk was mixed in, this dish was just heaven in every bite. Just a lovely breakfast-style pasta plate, and a must-order if you're a Carbonara fan. I know I'm coming back for more.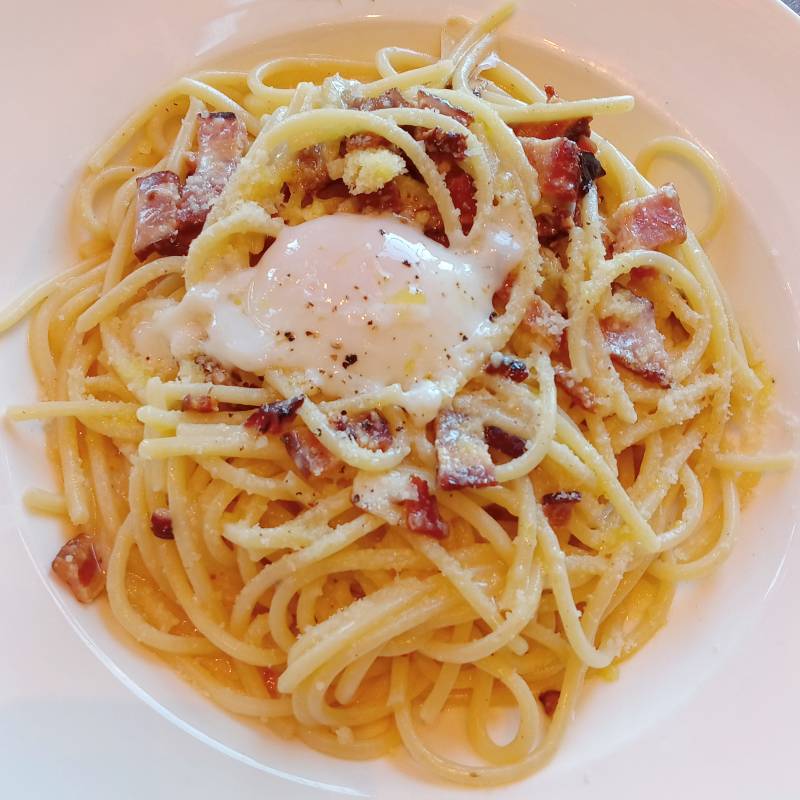 ---
In between our food being brought out, Chef Cabello mentioned most everything is made in house, including several of the breads. You can taste the quality of the ingredients.
With our food, we enjoyed Maria and Enzo's Margarita Flight, featuring 2oz pours of three specialty margaritas: Pomegranate, Blood Orange, and Italian.
My favorite was the Pomegranate, made with Espolon tequila, combier, lime juice, sour mix, simple syrup, and pomegranate juice with a sugar rim. It was slightly tart and refreshing.
My guest's favorite was the Italian margarita, featuring Lazzaroni Amaretto, Cointreau, Espolon tequila, and a sweet and sour mix with a salt rim. A nice mixture of tart and sweet.
We both enjoyed the Blood Orange flavor, made with Espolon tequilla, combier, lime juice, sour mix, and blood orange juice, with a mandarin orange sugar rim. A bright sweet drink.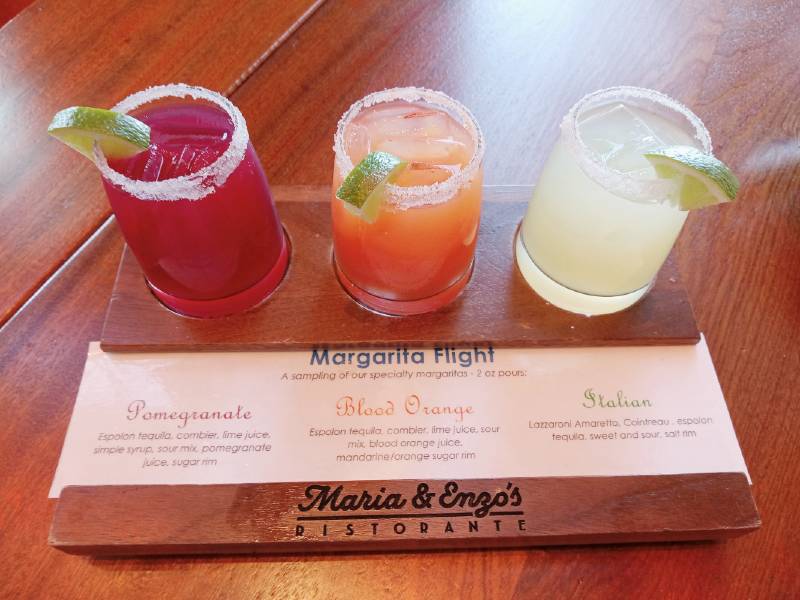 ---
Towards the end of our meal, we tried the Drinkable Desserts flight of sweet creamy beverages.
The Chocolate Berry is made with Chambord, Godiva White Chocolate liqueur, and strawberry puree, and poured into a glass ribboned with Godiva Dark Chocolate liqueur. It tasted like chocolate milk with a hint of strawberry and a bit of a kick. Chocoholics will like this one.
The Pistachio Dream features three ingredients – Godiva White Chocolate liqueur, Absolute Vanilla vodka, and pistachio syrup in a glass with a crushed pistachio rim – but it definitely packs a tasty nightcap wallop.
The Lemon Cream Pie was the final 2oz drink of the flight, and was made with Limoncello, Godiva White Chocolate liqueur, Pinnacle Whipped Vodka, lemon juice, and simple syrup, with a lemony graham rim. The least sweet of the three, it definitely tasted like its namesake pie.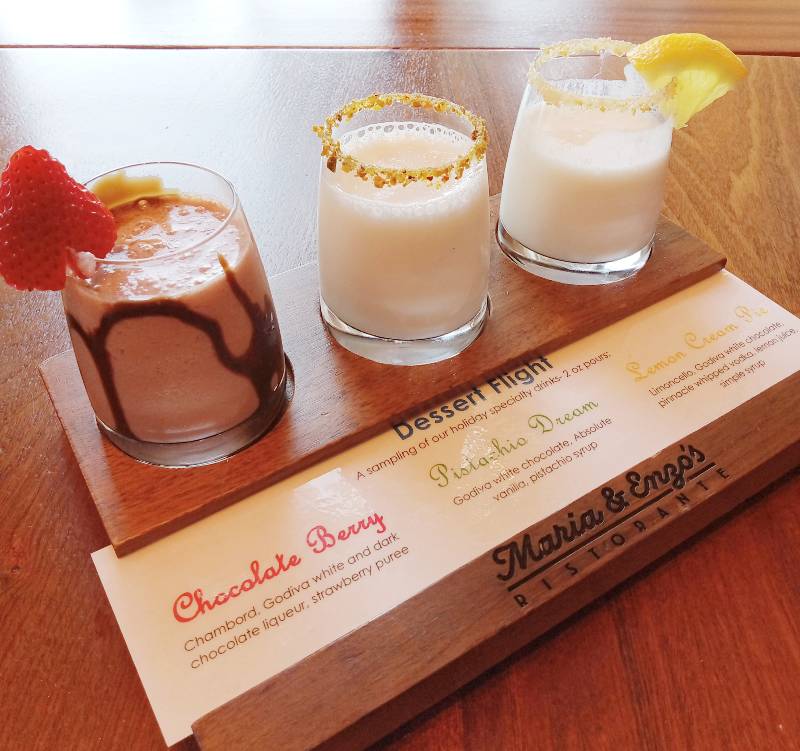 ---
Maria and Enzo's brunch is only a few months old, but it's definitely a stand-out in the many options foodies have to enjoy at Walt Disney World.
The brunch is served on Saturdays and Sundays from 11:30am to 3:30pm. If you want a quieter brunch, definitely go with an earlier seating. Around 12:30pm, the large dining room fills up.
For the full menu, or to reserve a table (recommended), visit Maria and Enzo's website at PatinaGroup.com/Maria-Enzos.
---
Disclaimer: The Disney Blog was invited to a media tasting of the brunch menu. As always my opinions are my own, and honest.