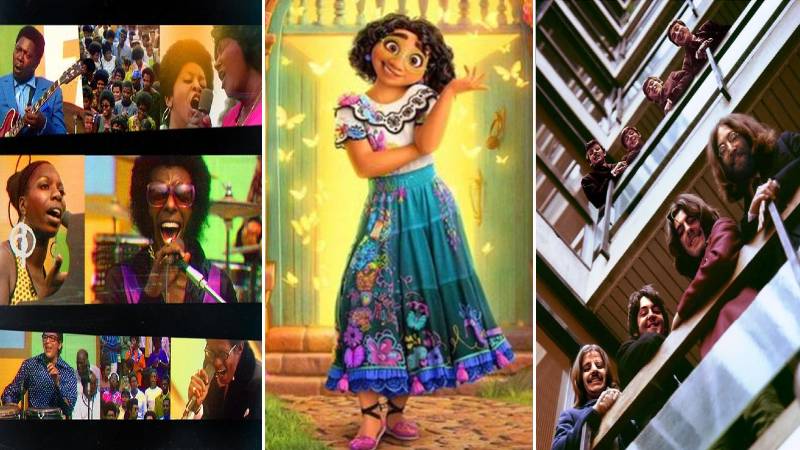 With one week left to go before the Oscars next Sunday, the 2022 Producers Guild of America Awards and the Cinema Audio Society Awards were announced in separate events last night (March 19) in Los Angeles.
At both award shows, Disney-related projects scored wins, including "Encanto," "Summer of Soul," and the Peter Jackson directed "The Beatles: Get Back."
---
The Producers Guild also awarded this year's PGA Milestone Award to Lucasfilm founder George Lucas and its present leader Kathleen Kennedy, which was presented to the duo by longtime collaborator Steven Spielberg.
During their speeches, Kennedy gave a shout-out to the impact of diverse, female, and LGBTQ+ artists in the motion picture industry:
"We worked side by side through one revolution in our industry after another — revolutions not only in the means of moviemaking, and in the ways movies reach audiences, but also in the composition of our business," she said. "As women, artists of color, LGBTQ and differently labeled artists and producers who have fought for and won a place at the table, propelling our community toward a more inclusive, diverse, richer, more sophisticated and nuanced sense of our responsibilities for social, racial and economic justice. There's no one that I would rather share this moment with more than my friend, my mentor and the greatest master Jedi of them all: George."
---
Here is the full list of 2022 PGA winners for Disney:
Award for Outstanding Producer of Animated Theatrical Motion Pictures
"Encanto" (Walt Disney Pictures)
Producers: Yvett Merino, p.g.a., Clark Spencer, p.g.a.
Award for Outstanding Producer of Documentary Motion Pictures
"Summer of Soul (…Or, When the Revolution Could Not Be Televised)" (Searchlight Pictures/Hulu)
Producers: Joseph Patel, p.g.a., David Dinerstein, p.g.a., Robert Fyvolent, p.g.a.
Award for Outstanding Producer of Non-Fiction Television
"The Beatles: Get Back"
Producers: Paul McCartney, Ringo Starr, Yoko Ono Lennon, Olivia Harrison, Peter Jackson, Clare Olssen, Jonathan Clyde, Jeff Jones, Ken Kamins
PGA Milestone Award
George Lucas and Kathleen Kennedy (LucasFilm)
---
Meanwhile, at the 58th CAS Awards for outstanding achievement in sound mixing, the same three titles won awards:
Motion Pictures: Animated
"Encanto"
Original Dialogue Mixer: Paul McGrath CAS
Re-Recording Mixer: David E. Fluhr CAS
Re-Recording Mixer: Gabriel Guy CAS
Re-Recording Mixer: David Boucher CAS
Scoring Mixer: Alvin Wee
ADR Mixer: Doc Kane CAS
Foley Mixer: Scott Curtis
Motion Pictures: Documentary
"Summer of Soul (Or, When the Revolution Could Not Be Televised)"
Re-Recording Mixer: Paul Hsu
Re-Recording Mixer: Roberto Fernandez CAS
Re-Recording Mixer: Paul Massey CAS
"Television Non-Fiction, Variety or Music – Series or Specials"
"The Beatles: Get Back" Part 3
Production Mixer: Peter Sutton (D)
Re-Recording Mixer: Michael Hedges CAS
Re-Recording Mixer: Brent Burge
Re-Recording Mixer: Alexis Feodoroff
Music Mixer: Sam Okell
Foley Mixer: Michael Donaldson