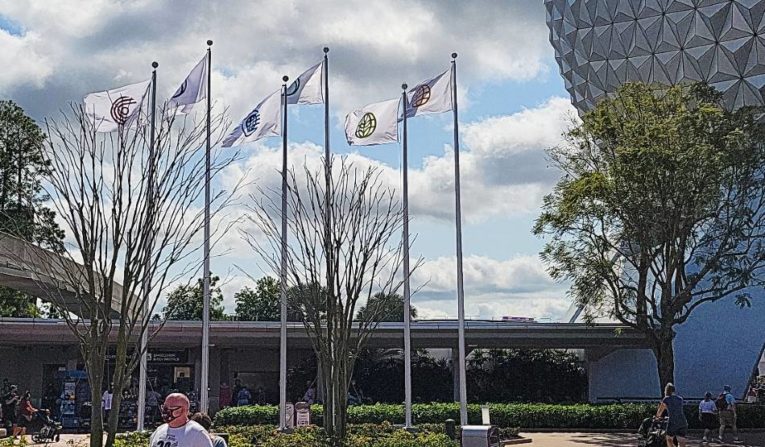 The EPCOT entrance plaza is one of the first areas of the park to get a total makeover as part of the overall EPCOT transformation that was announced at the last D23 EXPO. When complete, the Future World area of EPCOT will be divided into three neighborhoods with a new central spine leading guests into the World Showcase.
Yesterday, EPCOT debuted 12 new flag poles that will fly flags featuring the icons of the six original EPCOT icons in the Entrance Plaza.
The new flagpoles flank Spaceship Earth, kinda reminiscent of the old Flags of the World that used to greet guests as they entered Tomorrowland at Disneyland, USA.
According to Imagineer Zach Riddley, the icons represent the original design philosophy of the park, which will be continued through to the new EPCOT neighborhoods that are currently under construction in the park.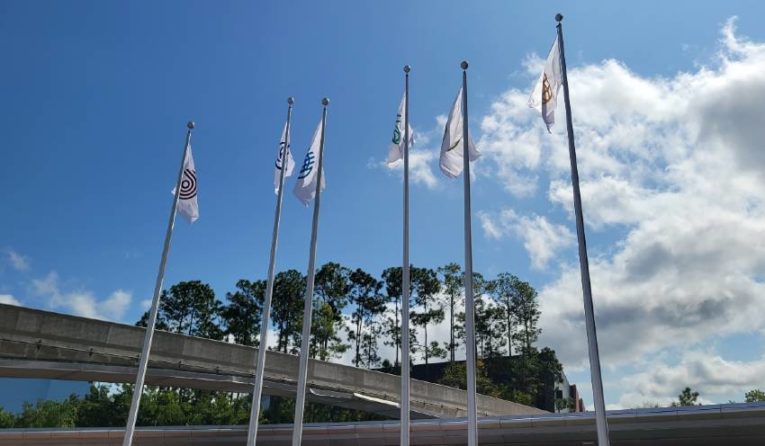 The park will also debut other enhancements in the main entrance plaza including new background music and a color-coordinated light ribbon around the entire rim of the area.
The light ribbon itself is more than four football fields long. According to Riddley, the lights were there from the beginning of the park, but used fluorescent tubes in solid colors and had fallen out of use.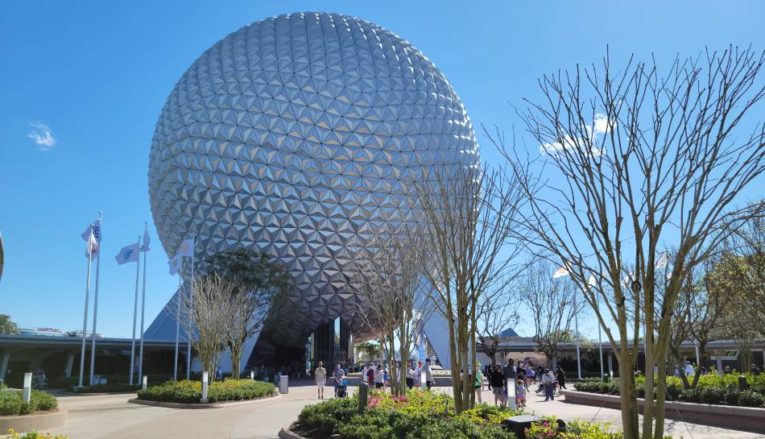 This new version features programmable LED lights with nearly 3,000 individually controlled points of light that blend together to create the color gradients and patterns.
Riddley shared this video of the installation check on his Instagram:
This new look is reportedly just a sample of what guests should expect to see throughout EPCOT as work on the transformation continues.
Also we expect the lights on Spaceship Earth that will be added as part of the Walt Disney World 50th Anniversary celebration Beacons of Magic, but stay on after the event, will coordinate with these new displays as well.
Should be really impressive.
Together with the recently remodeled fountain and lighting package, the look and feel of EPCOT's main entrance will provide new inspiration to guests entering the park after dusk.
We're happy to see more milestones in the historic transformation of EPCOT being reached. It sounds like there are a few more details to be finished in the main entrance plaza for EPCOT, but soon that area will be complete.