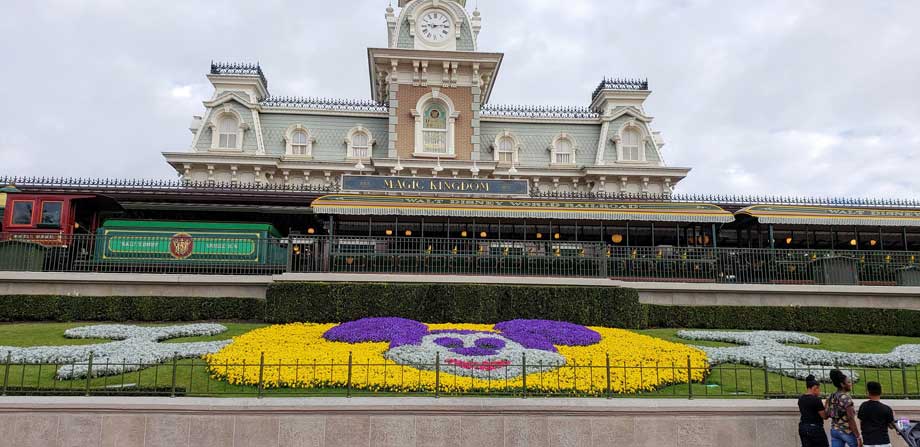 What's going on with the train track at the Magic Kingdom?
The Walt Disney World Railroad at the Magic Kingdom is currently down for refurbishment as the park is reworking a section the track to accommodate the addition of a TRON-themed roller coaster. But is Disney taking this opportunity to have one of those famous 'plussing' moments that separates Disney magic from all the rest?
On Saturday we spotted some extra dirt moving going on around the berm behind Main Street U.S.A.. It's appears they're adding a wide flat area on the outside of the berm. This is no where near where the TRON coaster show building will go, but they're adding a lot of new land to the area between Tomorrowland and Main Street U.S.A..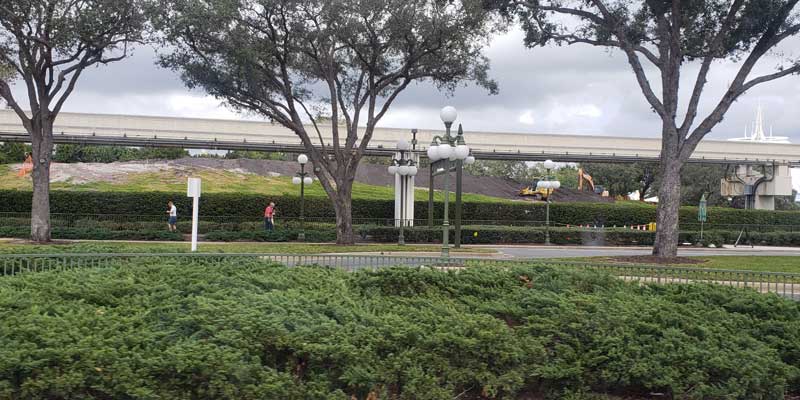 Could this new flat section of land be in preparation for a new attraction to go with the Walt Disney World railroad? We think so.
When Universe of Energy closed at Epcot in 2017 to make way for the new Guardians of the Galaxy attraction, there were a lot of people hoping that Disney would re-purpose the dinosaur animatronics and move them over to the Magic Kingdom to recreate one of Disneyland's most iconic experiences – The Primeval World diorama.
This new swath of flat land Disney is adding appears perfectly situated to recreate a similar diorama at the Magic Kingdom. Dinosaurs once housed in the Universe of Energy included a family of Brontosaurus, several Trachodon, a group of Ornithomimus drinking from a pond, and a Stegosaurus battling an Allosaurus. There were also a couple of Pteranodon and Elasmosaurus hanging around. Plenty of figures to create a wild Dinosaur diorama from for a railroad ride-through experience.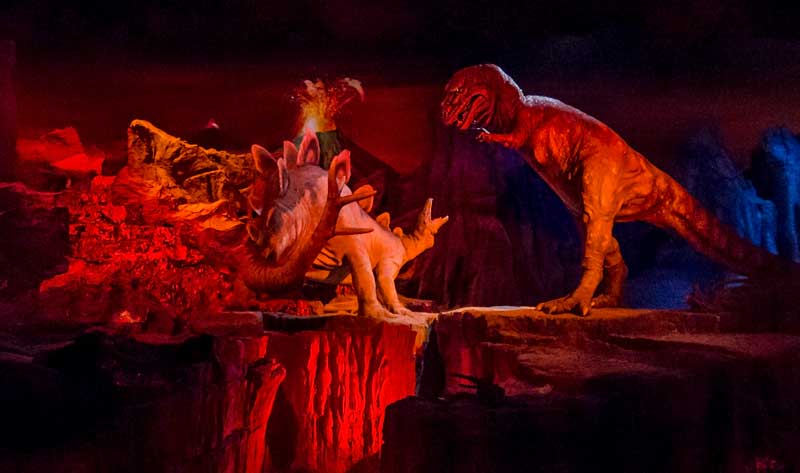 The dinosaur diorama at Disneyland was added after the 1964 World's Fair as part of a new administration building for the park. Since then it has entertained hundreds of millions of guests ending in a climatic battle between a T-Rex and Stagosaurus, similar to the scene from Disney's animated masterpiece Fantasia.
Right now this is pure speculation with no official announcement from Disney, but we hope we're right. Do you think Disney should move the Universe of Energy dinosaurs over the the Walt Disney World Railroad at the Magic Kingdom?