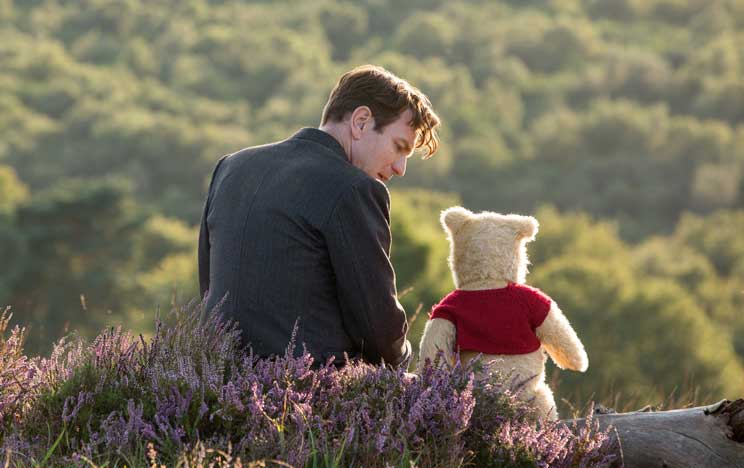 We're just a few days away from the premiere of Disney's "Christopher Robin" a unique spin on the characters from A.A. Milne's classic Winnie-The-Pooh series. This movie is live-action with a heavy dose of magical realism. It is set years after the events of the stories in the books and Disney's animated movies and TV shows. Christopher Robin has grown up, found himself a job and a family, but along the way he lost himself. Enter Winnie-The-Pooh who has an adventure planned that might just help fix everything.
Director Marc Forster says the upcoming movie is a relevant story that touches on something desperately needed in the world today. "We could all use a little bit of Pooh's heart and wisdom right now," Forster said.
Disney's history with the A.A. Milne characters dates back to 1966 when the animated short "Winnie the Pooh and the Honey Tree" was released. That was followed by two shorts "Winnie the Pooh and the Blustery Day" and "Winnie the Pooh and Tigger, Too" and a several full-length features, direct-to-DVD titles, and even an animated TV series.
About the film:
In the heartwarming live action adventure Disney's "Christopher Robin," the young boy who shared countless adventures with his band of lovable stuffed animals in the Hundred Acre Wood is now grown up and living in London but he has lost his way. Now it is up to his childhood friends to venture into our world and help Christopher Robin rediscover the joys of family life, the value of friendship and to appreciate the simple pleasures in life once again.
Disney's "Christopher Robin" is directed by Marc Forster from a screenplay by Alex Ross Perry and Allison Schroeder and a story by Perry based on characters created by A.A. Milne and E.H. Shepard. The producers are Brigham Taylor and Kristin Burr with Renée Wolfe and Jeremy Johns serving as executive producers. The film stars Ewan McGregor as Christopher Robin; Hayley Atwell as his wife Evelyn; Bronte Carmichael as his daughter Madeline; and Mark Gatiss as Giles Winslow, Robin's boss. The film also features the voices of: Jim Cummings as Winnie the Pooh and Tigger; Brad Garrett as Eeyore; Toby Jones as Owl; Nick Mohammed as Piglet; Peter Capaldi as Rabbit; and Sophie Okonedo as Kanga.
See Disney's Christopher Robin in theatres August 3.