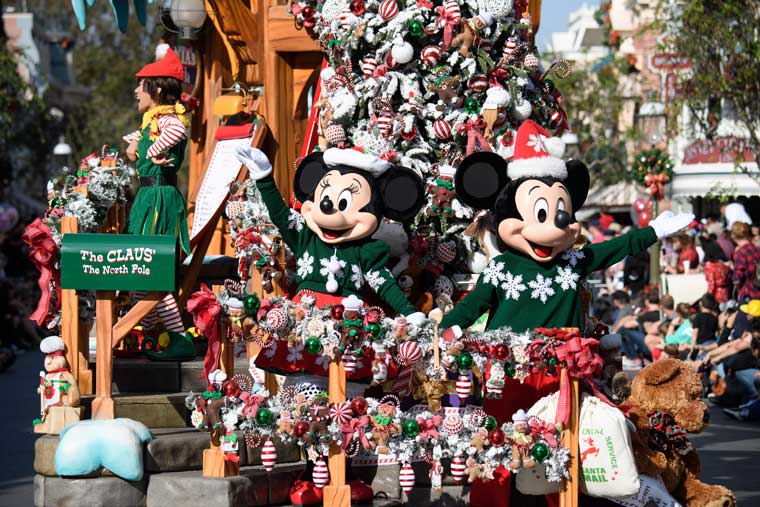 The holiday season at the Disneyland Resort returns for 57 days of merriment and delight beginning November 9, 2018 and running through January 6, 2019. Expect the return of favorite holiday experiences including Festival of Holidays and the "Believe … in Holiday Magic" fireworks spectacular. The heartwarming Festival of Holidays, which honors the sights, sounds and tastes of Christmas/Navidad, Hanukkah, Diwali, Kwanzaa and Three Kings Day, will remain at Disney California Adventure Park for an additional two days, running through Jan. 8, 2019.
As you plan your visit, let us know your favorite Holiday traditions that you celebrate at the Disneyland Resort. Is there a Disney-themed treat you have to buy, holiday entertainment you must see, or is it the way the parks sparkle with that extra holiday magic.
At Disneyland Park
Sleeping Beauty's Winter Castle enchants from day to night with its shimmering icicles and twinkling lights. In the evening, the spectacular "Believe … in Holiday Magic" fireworks spectacular and its magical snowfall finale create lasting holiday memories for guests.
Mickey, Minnie, Disney Princesses and Santa celebrate the season in "A Christmas Fantasy" parade, a daily procession with floats, music and marching "tin soldiers."
Guests will be amazed by the 60-foot tall Christmas tree in Town Square, Main Street, U.S.A. Filled with nearly 1,800 ornaments, the tree is a picturesque sight where many friends and family gather to take holiday photos each year.
Disneyland guests definitely will want to experience the popular seasonal transformations of these park attractions:

"it's a small world" becomes "it's a small world" Holiday with dolls and toys representing children around the world enjoying the distinctive holiday traditions of their countries.
Haunted Mansion becomes Haunted Mansion Holiday,* with Jack Skellington and his friends from Tim Burton's "The Nightmare Before Christmas" causing a collision between Christmas and Halloween.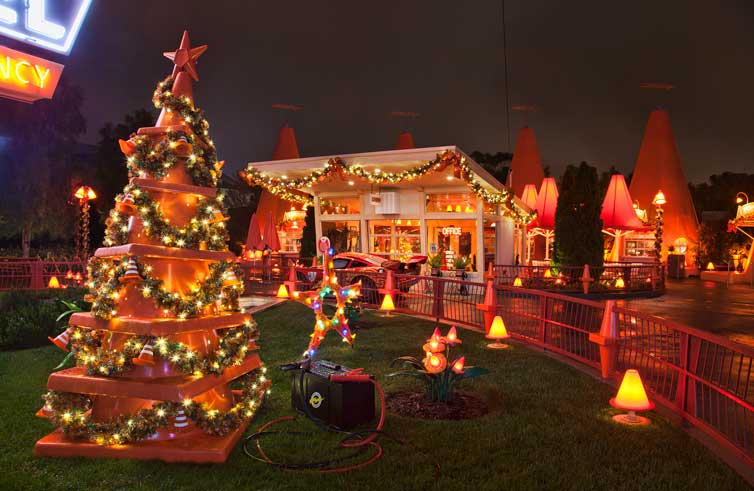 At Disney California Adventure Park
Festival of Holidays brings the spirit of the season to life through special entertainment including the popular "Disney ¡Viva Navidad!" street party, along with delicious food at the guest favorite Festive Foods Marketplace, which features a mix of holiday dishes and beverages that bridge many diverse cultures and family traditions.
For the residents of Cars Land, holiday decorating begins with the whimsical "Snowcar" that greets guests on the road to Radiator Springs. Each address along Route 66 – Flo's V8 Café, Fillmore's Taste-In, Cozy Cone Motel, Luigi's Casa della Tires and more – also gets a holiday makeover that reflects the personality of its "Cars" character resident. Plus, two attractions receive their holiday overlay again this year to become Luigi's Joy to the Whirl and Mater's Jingle Jamboree.
Guests can enjoy special holiday-themed activities with Santa Claus and his sleigh full of mischievous elves at Santa's Holiday Visit at the Redwood Creek Challenge Trail.
A dazzling, 50-foot Christmas tree adorns Carthay Circle along Buena Vista Street. The tree and surrounding buildings, inspired by Los Angeles as it appeared when Walt Disney arrived in the 1920s, are decorated with vintage-style ornaments.
The Downtown Disney shopping, dining and entertainment district and the Hotels of the Disneyland Resort also join in the holiday festivities with twinkling lights and ornaments, holiday displays, special entertainment and holiday-inspired eats and treats.
An astute viewer might notice that the DCA listing is missing any mention of a holiday World of Color water fountain show. There is been a bit of news about that recently, which I won't link to here, you can google it if you wish. All I can say is that I hope Disney quickly works things out with its talent in a manner that is fair and thoughtful and consistent with the company's values.